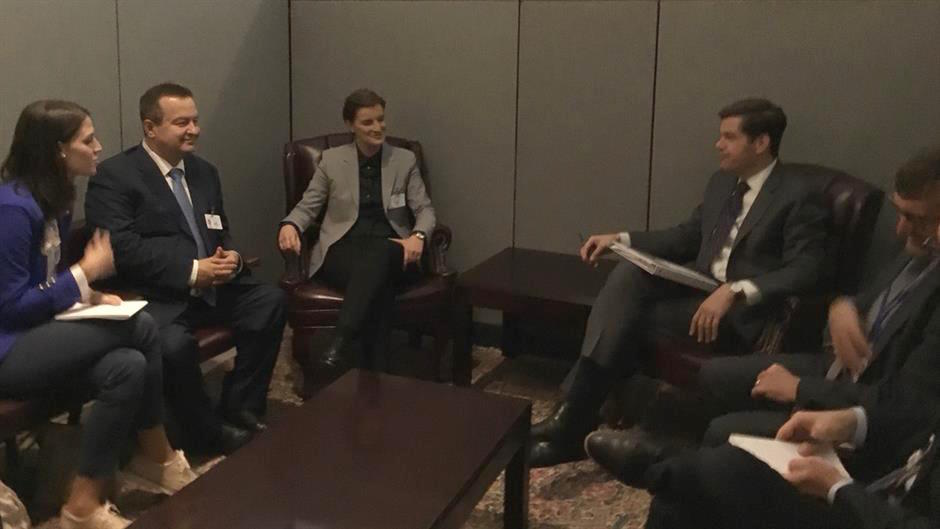 Serbian prime minister Ana Brnabic, which heads the country's delegation at the 73rd session of the United Nations General Assembly, had a meeting with Wess Mitchell, Assistant Secretary of State for European and Eurasian Affairs. At the meeting, according to the Serbian Foreign Ministry, Mitchel said that the U.S. would support the continuation of the dialogue between Belgrade and Pristina.
He has expressed the hope that the dialogue would lead to a lasting political solution for Kosovo; Washington is ready, together with its partners from the European Union, to "consider" the suggestion for a solution which would be reached by Belgrade and Pristina, it has been stated in the Ministry's press release.
Brnabic and Mitchell have also discussed the Serbian-American bilateral co-operation: political dialogue, joint work in economy, investments, defence and education. Foreign minister Ivica Dacic was also present at the meeting.
In her speech at the General Assembly session, Brnabic has underlined that her country is committed to peace and to finding a compromise solution in the talks with Kosovo. In that sense, she added that the international community's assistance is indeed needed.
Brnabic has also talked with the United Nations secretary general Antonio Guterres who, according to the Serbian government's press release, has said that "from the standpoint of the UN, Kosovo is not a country". Guterres was also quoted as saying that the UN would support any possible solution agreed by both Belgrade and Pristina.
At the meeting with Guterres, Brnabic has stressed that Serbia actively participates in the UN's peace-keeping missions.
"It is in the interest of Serbia that UNMIK remains in Kosovo and Metohija, with the same mandate and same number of staff", Brnabic noted; from his part, Guterres has confirmed that the UN's mission will remain in Kosovo…. / IBNA