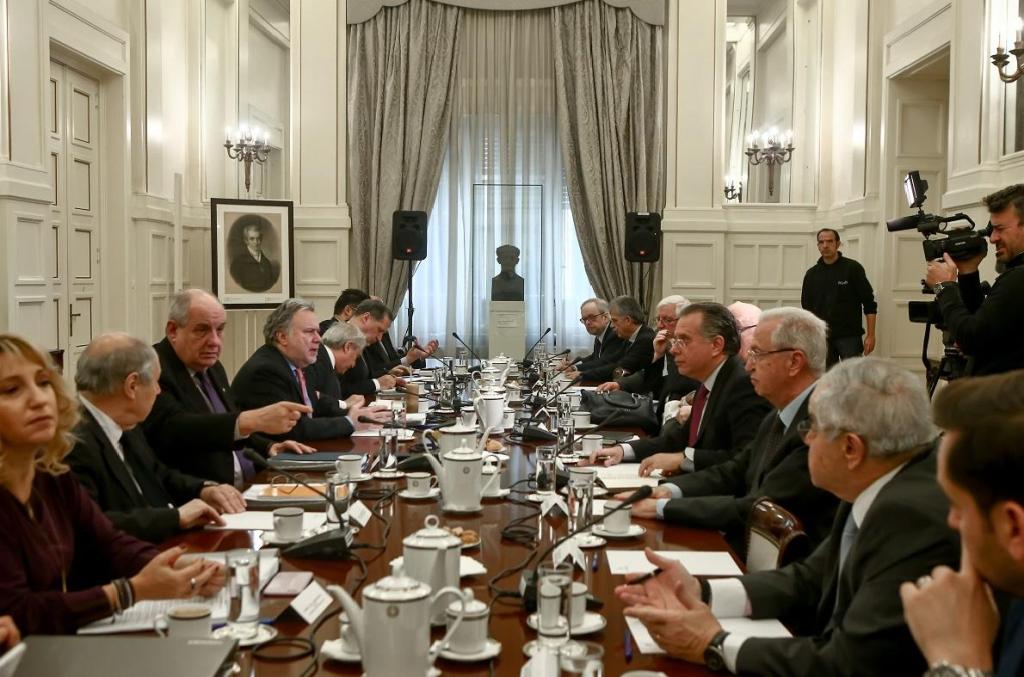 The Greek Foreign Affairs Minister informed today the spokespersons of the political parties and foreign policy officials with background the Turkish provocation, Ankara's actions in Cyprus' EEZ, as well as the decisions of the European Union.
At the Meeting of the National Foreign Policy Council, G. Katrougalos referred in detail to the actions undertaken by Greek diplomacy in recent months, in close cooperation and consensus with the Cypriot diplomacy, in order to defend national interests, both at European Union level and at the UN level, but also at a bilateral level with the US and the countries of the region.
As G. Katrougalos pointed out, these coordinated moves have resulted in the inclusion of the issue on the US-Turkish agenda, as well as the recent EU decision on measures against Turkey. As has been emphasized by all, these measures will soon need to be clarified.
As the Greek Ministry of Foreign Affairs assesses, these measures reflect the perception of Europeans that the issue is not a mere bilateral dispute, but concerns the whole of the European Union, as the Turkish actions challenge the sovereign rights of one of its member states, the Republic of Cyprus, as well as European energy policies, while hindering European companies.
It is recalled that Al. Tsipras, who yesterday was in Cyprus in order to attend the funeral of former President D. Christofias, sent a strong message to Ankara while speaking to the soldiers serving in the Hellenic Force in Cyprus (ELDYK). "Anyone who violates international law, the sovereign rights of Greece and the Republic of Cyprus, will pay a serious price," the Greek Prime Minister said, among other things, in response to the statements made by Turkish President Erdogan.
In the presence of Tsipras the signing for hydrocarbons in Crete
Meanwhile, barring unforeseen circumstances, the granting of exploration and exploitation rights for hydrocarbons in the marine area of Crete is expected to be signed tomorrow, in the presence of Al. Tsipras. This was announced by the PM himself a few days ago.
According to information, before the signing between the Ministry of Environment and Energy and the joint venture "Total- ExxonMobil- Hellenic Petroleum (ELPE)", the Greek Prime Minister with his intervention is expected to attach great importance to the country's efforts to exploit its mineral wealth, while at the same time send a message to the Turkish provocativeness.
At the same time, in Athens they calmly monitor the movements of Ankara, considering that despite the rhetoric tension from Erdogan and his government officials, in practice no escalation has been observed. Besides, the "bad scenario" of the Yavuz drill reaching Kastellorizo is slowly disappearing, since it has set a course to Karpasia, just as the Turkish Minister of Energy had announced./ibna