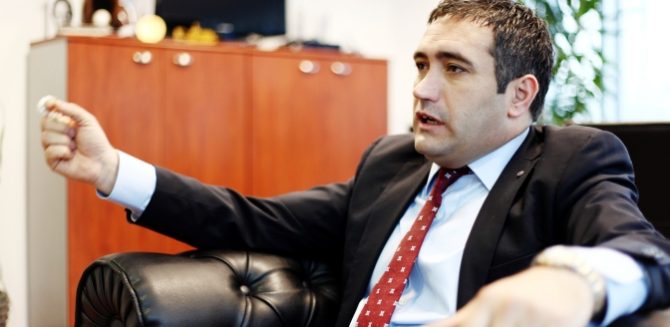 The trial of businessman Sead Kocan, who is accused of a 17-million euro faud against the fYROM state began on Tuesday.
Kocan, after hearing the indictment against him, declared "innocent" and added that all his actions for which he was accused were completely legitimate.
The prosecutor reported that there are compelling evidence against Kocan that prove his guilt and will be revealed during the trial, which will continue in the following period.
Sead Kocan, who owns the construction company "Trans Met", and two other entrepreneurs with whom he had formed a consortium, are accused of having participated in falsifying documents in a tender for ELEM, a state-owned power generation company in 2011, which they had won. According to the indictment, the damages the fYROM state suffered in that tender amounts to EUR 17 million.
The Special Prosecutor's Office of F.Y.R.O. Macedonia has drawn the accusations against Kocan based on a telephone conversation dating back to the year of the tender in 2011 between the then Prime Minister Nikola Gruevski and the then general manager of ELEM, which had been published by Zoran Zaev's opposition two years ago, as part of its revelations for the telephone wiretap scandal. From that conversation, but also from other similar cases held by the Special Prosecutor's Office, Nicola Gruevski had instructed the Director-General of ELEM to "set up" the tender in some way for the benefit of the three companies of the consortium, which included Kocan's "Trans Met" as head of the consortium.
Kocan is one of the country's most well-known entrepreneurs, who had been spectacularly expanding all of the previous years, which, according to Skopje's economic and political circles, was due to the close relationship he held with Nikola Gruevski's former ruling VMRO-DPMNE. Kocan, (a citizen of fYROM of Bosnian descent) a year and a half ago founded the state-of-the-art TV station, "TV NOVA", which is affiliated to VMRO-DPMNE./IBNA