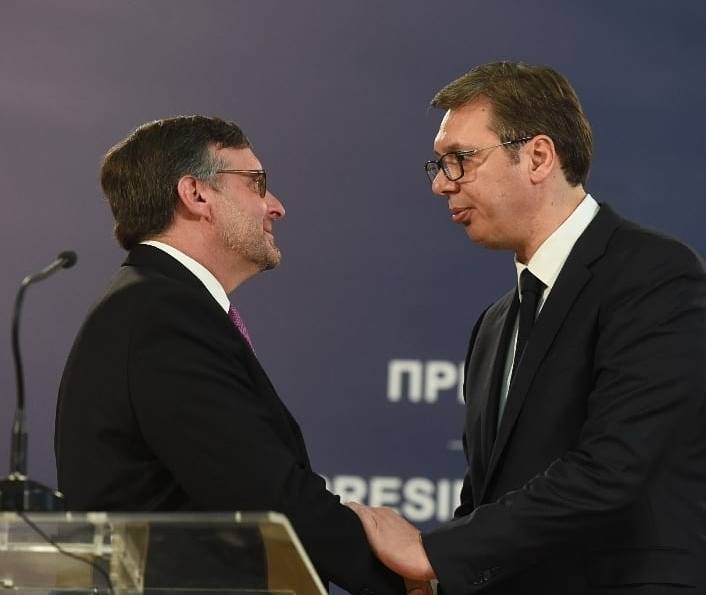 The relations between Belgrade and Pristina were discussed today by President Aleksandar Vucic and US Deputy Assistant Secretary of State Matthew Palmer. "We want taxes to be abolished and enable both sides to get back to the negotiating table", said Palmer at the joint press conference with Vucic in Belgrade.
The 2018 taxes on Serbian goods imposed by Pristina are considered by Belgrade as a main obstacle for further dialogue. Both Vucic and Palmer have concluded that the future "is more important than what has happened in the past".
The Serbian President stated that his meeting with the American diplomat was "correct"/ good. "We agree that talks and preserving peace and stability alongside with respecting the interests of both Serbian and Albanian people are the only way to reach a solution", Vucic said, adding that he has "asked Palmer to understand the need to find an agreement through compromise, on which Serbia insists."
Vucic also rebuffed alleged "stories in the part of Western public according to which Serbia has used taxes to close the dialogue".
"What else should we talk about with those who prevent circulation of goods and services … And we should discuss more complicated issues", Vucic said.
The talks with the United States have never been easy, "but sincerity and preciseness are much more important than what one feels during the exchange of arguments", he went on.
Palmer has stressed that Washington would support both a dialogue between Belgrade and Pristina and a Serbian EU accession process.
"We continue to support the dialogue towards normalization between Belgrade and Pristina and we believe that it is important that this dialogue opens the European path for Serbia and Kosovo. We wish the taxes to be abolished in order to enable both sides to get back to the negotiating table", Palmer said.
The United States are committed to the support and investments of Serbia, he stressed. "I will meet the representatives of American firms which have invested here. We will discuss the economic opportunities for business people and the loses of American businesses because of the taxes", Palmer announced./ibna