The strengthening of border control and the improvement of the living conditions in hospitality centres are included in the guidelines given by Prime Minister Kyriakos Mitsotakis, in consultation with the competent Commissioner Dimitris Avramopoulos at the "institutional" meeting held at the Maximos Mansion.
At the meeting- with the participation of the Minister of Citizen Protection Michalis Chrisochoidis, the Deputy Minister for Migration Policy Giorgos Koumoutsakos and Minister of Marine and Island Policy Giannis Plakiotakis-, according to the statement of Maximos Mansion, the priorities of the government were prioritised, always in close cooperation with the technical assistance of the European Commission. The Prime Minister asked the ministers to concentrate their actions in the immediate future on:
The immediate improvement of the living conditions for refugees and immigrants in the country, with main concern the vulnerable groups and first priority the protection of unaccompanied children.
The strengthening of the protection of the common Greek and European borders, especially the maritime ones, with a new integrated plan that will set the European force under Greek command with clear operational rules of action. It is reminded that this project includes the best utilization of the European Border Guard and Coast Guard (Frontex) forces, the intensification of the patrols of the coast guard, while upgrading its logistical equipment, and the full use of European resources with complete transparency.
The reforming- by the end of 2018- of the institutional framework for granting asylum, aiming at its quick, fair and efficient administration.
The faithful implementation of the EU-Turkey Joint Declaration on Migration Management and the Decongestion of the Islands.
The completion of the work on the reception and identification centre in Samos, in order to ensure decent and safe living conditions for refugees and immigrants.
The incorporation of community directives in the country's security policy
However, the pre-election commitment for the immediate decongestion of the eastern Aegean islands is not recorded in the priorities.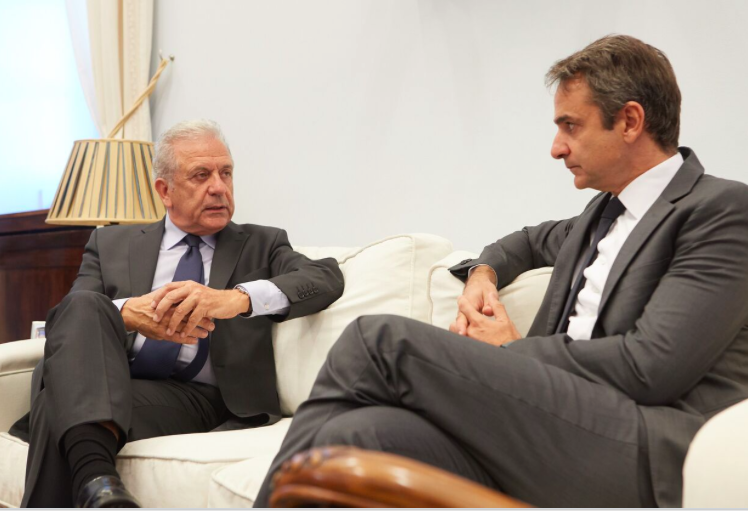 Earlier, during his exit from the Maximos Mansion, Dimitris Avramopoulos stated: "During the meeting the situation which is prevalent in the wider region was presented, where migration flows have recently been observed… Greece is an important factor of stability, we must be better prepared for the future because we do not know what the future will bring. The big issue of immigration and security will have the best possible management… With the initiatives being taken, it is certain that- and given the government's decision- the management in the future will be more effective. The Greece of Solidarity and Responsibility is here, and next to it is Europe… Cooperation with Turkey is essential. I want to believe that with good will and a positive attitude we will have positive results"./ibna