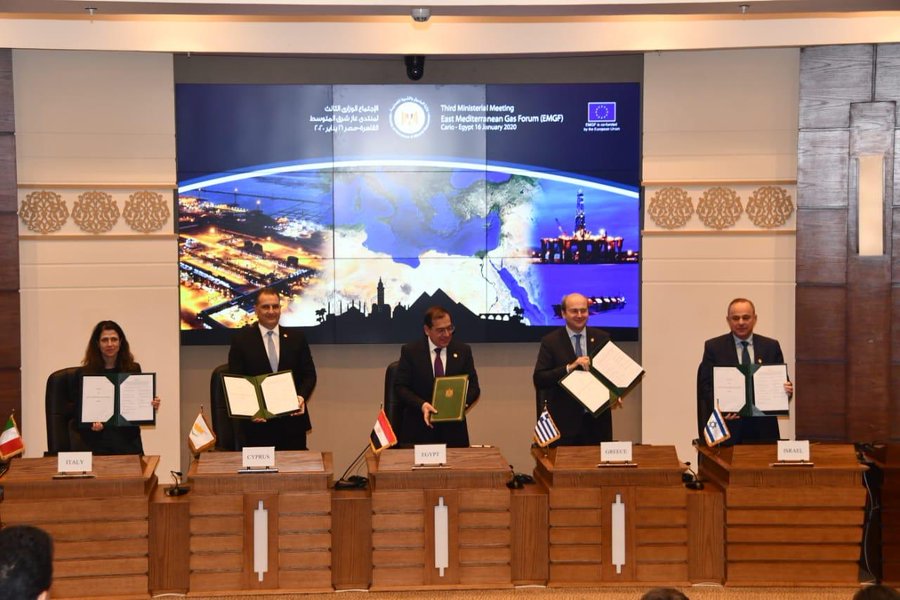 Minister of Petroleum and Minerals of the Arab Republic of Egypt Tarek El Molla said the signing of the articles of association for the creation of the East Med Gas Forum was a historical moment, welcoming his counterparts from Cyprus, Greece, Israel, Palestine, the Italian Deputy Minister of Economic Development, the spokesman of Jordan, as well as representatives from the EU and the World Bank, France and the USA.
"This is a cornerstone in the history of our region that makes us work for the good of our peoples", Tarek El Molla addes, of the Manara Convention Center in Cairo, where the East Med Gas Forum statute was initialed on Thursday, January 16.
Cyprus Energy Minister Giorgos Lakotripis said that by initialing the statute of the East Med Gas Forum, we have an example of how different countries, even in difficult times, can pursue alliances for the good of the peoples of the region.
Giorgos Lakotroupis referred to the progress of the pipeline works that will connect Cyprus with Egypt, as another example of how cooperation between countries can contribute to the good of the people of the region.
Greek Minister of Energy and Environment Kostis Chatzidakis also spoke of "a historic moment for the whole Mediterranean region".
The Greek Minister pointed out that all countries participating in the East Med Gas Forum agreed that gas could be used as a tool for peace and not for conflict.
But he pointed out the importance that everything should be decided on the basis of international law, which all countries in the region should accept.
Through the Southeastern Mediterranean Gas Forum, the European acquis and European laws have been respected in the creation of this body, the Egyptian Energy Minister noted, expressing his great appreciation and satisfaction, both France's request to participate and for the support from the US.
The East Med Gas Forum is an example of partnerships for the good of the region, Israeli Energy Minister Yuval Steinitz added./ibna