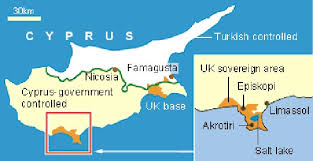 On October 11 will begin the negotiations between the Republic of Cyprus and the British government on the status of the bases after Brexit, following the exception requested and received by Cyprus from the EU negotiating team for Brexit of European negotiator Michel Barnier.
Cyprus is the only country in the European Union that will have the opportunity to negotiate on a bilateral basis with Britain over Brexit, and not through the EU institutions as required by the EU-Britain agreement.
The reason is that in Cyprus there are two of Britain's most important military bases and a spy radar at Troodos, which is currently the most powerful tool of British intelligence.
In the midst of the election campaign for the presidential elections in early 2018, the issue of the British bases has already entered the agenda of all parties.
There have been candidates for the Presidency of Cyprus' Republic who have already called for the removal of the British bases and for the attribution of its territories in the Republic of Cyprus, while Britain does not support Cypriot positions in the Cyprus talks.
The two bases in Akrotiri and Dhekelia are considered British territory, have the United Kingdom flag and national emblem, the British national anthem, the capital Episkopi, the official English language, radio stations, issue newspapers, civil courts, civil police and customs. The British have modernized their bases and seeking to turn them into NATO- British-, since Brexit will also have an impact on their functioning.
Negotiations are expected to be tough as Britain will want to maintain its sovereign rights in Cyprus, while the Cypriot government will ask to receive benefits possible from Britain's exit from the EU. Also, new data that Nicosia ought to manage has already been developed…/IBNA