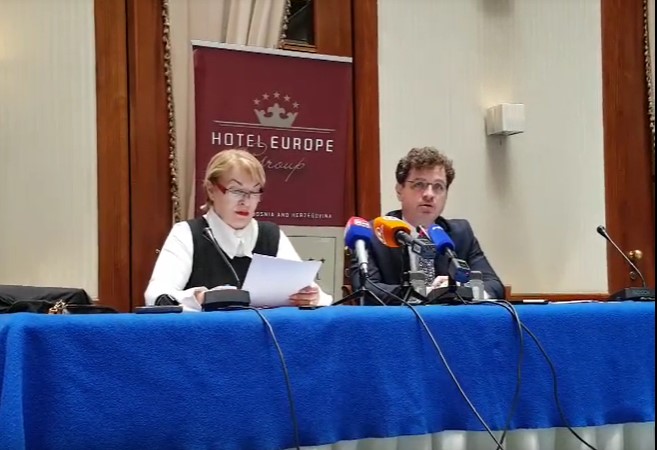 The legal representatives of Turkish citizens, whose extradition is requested by the Republic of Turkey, consider that the rights of their clients, first of all, should be protected by the institutions of Bosnia and Herzegovina, and that they, as the legal representatives, are there "to provide evidence that their clients are not members of any terrorist organizations, that no procedure is being conducted against them and that they have been living legally and legitimately in BiH for years".
Lawyer Nedim Ademović said at a press conference on Monday in Sarajevo that "the situation with Turkish citizens is politicized and there is a great political pressure on the institutions of BiH to solve these cases, not in the legal way and in accordance with the laws and the Constitution of BiH and international standards, but through political agreements between the two countries".
According to local media, Ankara delivered a list of eight Turkish citizens who now live in BiH and whose passports have been annulled.
"We believed this would never happen because we thought the institutions would solve the matter in a legal way, but the situation has been politicized to the extent where we have to defend our clients", Ademović said.
He added that "no citizen can be extradited without evidence that he/she committed a crime."Ademović stressed that there is no process in Turkey, no investigation or indictment against them.
"Those are persons who work and live normally in Bosnia and Herzegovina", Ademović said.
Attorney Senka Nožica pointed out that the Turkish citizens in question live in Bosnia for a long time and were never part of a criminal case process.
"Our clients have been living in BiH for many years, some of them more than 20 years. They mostly work as teachers, professors, they're all married and most of them have children here", Nožica told reporters, adding that their clients were not in a trial either in Turkey or in Bosnia.
"Some of our clients are renowned citizens in our society. We won't tell their names and you know that one of them was nominated for the April Sixth Award, which was not delivered", she added.
According to reports, more than 60 Turkish citizens in BiH have submitted a request for asylum, including the eight persons from the list that was delivered to the BiH Presidency members during the last visit of Turkish President Recep Tayyip Erdogan to BiH.
Ambassador of the Republic of Turkey in Bosnia and Herzegovina Haldun Koç, said in the written statement for local media that his country is determined to continue the fight "until the day when FETÖ is removed from all areas in which it operates under various masks".
"In this process, we will continue to warn all our friends and partners, including Bosnia and Herzegovina, about FETÖ and call for close cooperation, which is what international cooperation in the fight against terrorism precisely implies. We will continue the fruitful cooperation with the BiH authorities with the ultimate goal of ending the existence of this organization in the country," stressed Ambassador Koç./ibna