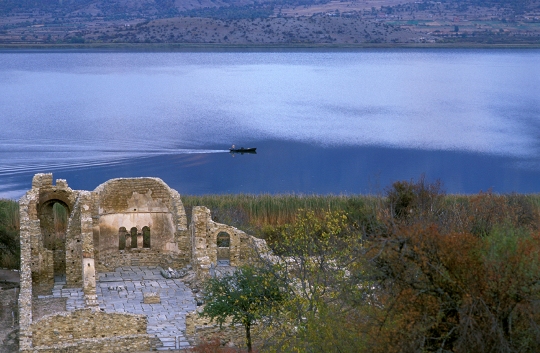 According to the IBNA's exclusive information,  the signing of the Agreement on the settlement of the name dispute between Greece and fYROMacedonia will be signed on Sunday, June 17.
According to the planner, the signing ceremony will be attended by the Foreign ministers of Greece and fYROMacedonia, Nikos Kotzias and Nikola Dimitrov respectively, in the presence of the two premiers, Alexis Tsipras and Zoran Zaev. Also, the presence of the UN envoy  Matthew Nimetz and that of the High Representative of the European Union for Foreign Affairs and Security Policy, Federica Mogherini, the European Commissioner for European Neighbourhood Policy and Enlargement Negotiations, Johannes Hahn and American Ambassador to the UN Rosemary Anne DiCarlo.
Later on, the two delegations with the high-profile guests will be driven to the fYROMacedonian side of Prespes where there will be a luncheon for the completion of the Agreement ceremony.
Protest on Sunday, in Prespes
The Committee fighting for the Greek Identity of Macedonia invites the Greeks of Northern Greece to be in Prespes against the Tsipras-Zaev agreement over the name dispute.
The relevant announcement that its members have issued reads: "The Committee fighting for the Greek Identity of Macedonia invites Greeks of Northern Greece to be in Prespes on the morning of Sunday, June 17, at 11:00 a.m. local, to protest against the signing of the agreement by the PMs of Greece and Skopje".
The fYROMacedonian Council of Ministers approved the agreement on the name issue
On Thursday evening, fYROMacedonia's Ministerial Council examined and unanimously approved the agreement on the name issue.
Moreover the cabinet of the country has also decided to declassify the text of the agreement and post it on the government's website.
The fYROMacedonian Prime Minister Zoran Zaev chaired the cabinet meeting, while Foreign Minister Nikola Dimitrov briefed the members on the agreement and the steps that are to follow.
Protest rally by VMRO-DPMNE in Bitola, on Sunday
Meanwhile, the main opposition party, VMRO-DPMNE, once again expressed its opposition to the agreement to find a solution to the name issue.
Hristijan Mickoski, the chairman of the party, said after the VMRO-DPMNE Executive Committee meeting in Skopje, on Thursday night, that the parliamentary group would vote against the deal when it would be brought to the country's parliament for ratification.
Mickoski justified this decision, stressing that there are three "paradoxical" elements: firstly, that an international agreement is ratified only by one of the involved sides not by both, secondly, what commitments will Greece make and what measures will be taken by Greece if it does not materialise the commitments and thirdly, how will the House decide something, by a simple majority, when such measures require a majority of two-thirds?
In addition, the VMRO-DPMNE, on the occasion of its anniversary, will hold a protest against the "capitulation" regarding the name issue, on Sunday, June 17, at 13:00 p.m. local time, in Bitola. The rally had been scheduled already before the deal was reached, however, the actual subject (of the rally) was adjusted based on current developments…. / IBNA