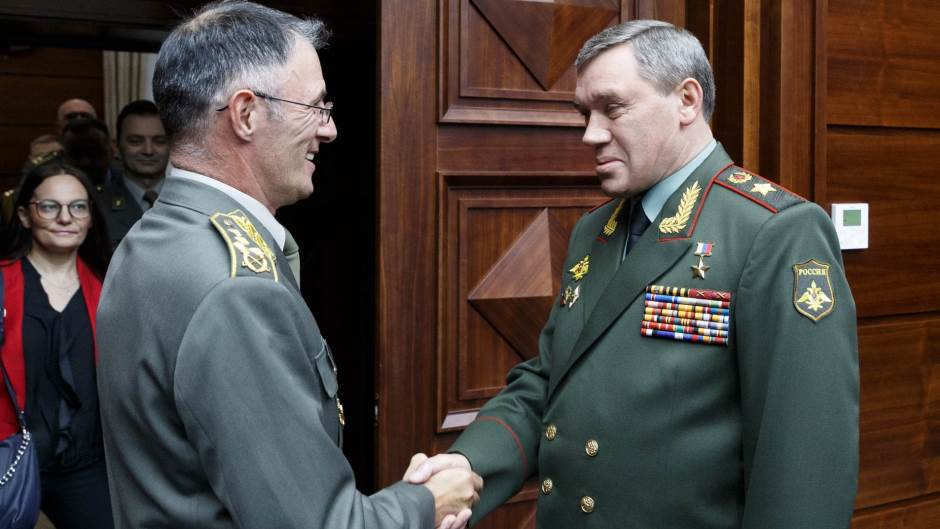 Milan Mojsilovic, Chief of General Staff of the Serbian Armed Forces, got the support from his Russian counterpart Valery Gerasimov over "how should we act with regard to Kosovo", the former said in the interview with Vecernje novosti daily.
"We still consider it (Kosovo) as the territory of Serbia, while Pristina's unilateral moves deteriorate the security situation. We are, of course, especially interested for the security of Serbs not only in the north of Kosovo, but in the whole province", Mojsilovic said after his first visit to Russian colleagues in Moscow. Mojsilovic, who was appointed in 2018, visited the Russian capital on Saturday.
At the meeting with general Gerasimov, it was confirmed to Mojsilovic, as he said, that Russia as "strategic partner of Serbia would continue to provide comprehensive assistance".
Mojsilovic and Gerasimov discussed "the current security situation both in region and the world as well as further improvement of the military cooperation between Serbia and Russia", according to Serbian Defense Ministry's press release. At the meeting, "the readiness for the continued comprehensive collaboration in the domains of mutual interest" was confirmed.
Mojsilovic thanked Gerasimov for the Russian assistance who has sent equipment to the Serbian Army; at the same time, he stressed that the Serbian Army would continue to "develop its capacities cooperating with all partner countries".
The Serbian military head has also attended the opening ceremony of the "International Military Games" in the park "Patriot", near Moscow. Serbian soldiers took part in "Tanks biathlon" discipline./ibna
Photo by Serbian Defense Ministry: Milan Mojsilovic (left) and Valery Gerasimov