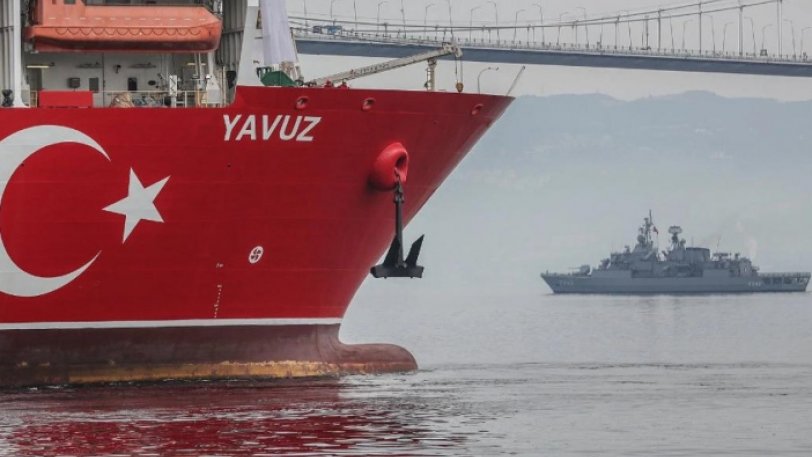 Turkish Cypriots Media reports  on the accompanying-supporting ships
By Michalis Michael
The ambiance between Turkey and Greece may have temporarily become better, with Turkey's Foreign Minister congratulating the new Prime Minister of Greece Kyriakos Mitsotakis and Tayyip Erdogan reaching out to the New Democracy leader, but nonetheless the Turkish parody close to the off-shore of Cyprus continues, as expected.
The Turkish drill ship "Yavuz", which sailed last night from southern Turkey, has arrived at Karpasia. It is Turkey's second drilling rig that will operate within the Cypriot Exclusive Economic Zone (EEZ). Just before midnight, the relevant NAVTEX (765/19) was issued, according to which "Yavuz" will be drilling until September 30 with the help of three supporting ships, "VOS PRIME", "VOS PRINCE" and «POSH SINCERO».
The… escort
Turkey even activated unmanned aircraft in the northern part of Cyprus, according to the newspaper Yeni Safak, which states that they might be used to the west of Cyprus. Millett newspaper also writes that Turkish survey ship Barbaros and the drill ship Fatih are "protected" by ten unmanned TB2-type aircrafts.
With the headline "Siege", Yeni Safak reports that Turkey is responding to the siege of NATO countries such as the United States, France, Greece and Italy, which, with Israeli assistance, are trying to encircle Turkey to the east Mediterranean.
The paper states that Turkey responds by increasing its military, political and economic image, as well as by having drones in the northern part of Cyprus monitoring the moves in the region. Yenis Safak reports that Fatih is accompanied by two frigates and three smaller missile firing boats and Yavuz by a frigate.
Furthermore, now and then Turkish F16 fighter aircrafts fly around the Turkish drills.
Milliyet newspaper, with the title "Drone Protection for Barbaros and Fatih," reports that 10 "Bayraktar TB2" drones are constantly flying above the Aegean and the Mediterranean. They take off from Turkey's Dalaman and fly off towards the Aegean Sea, Cyprus and towards the areas where drilling takes place./ibna