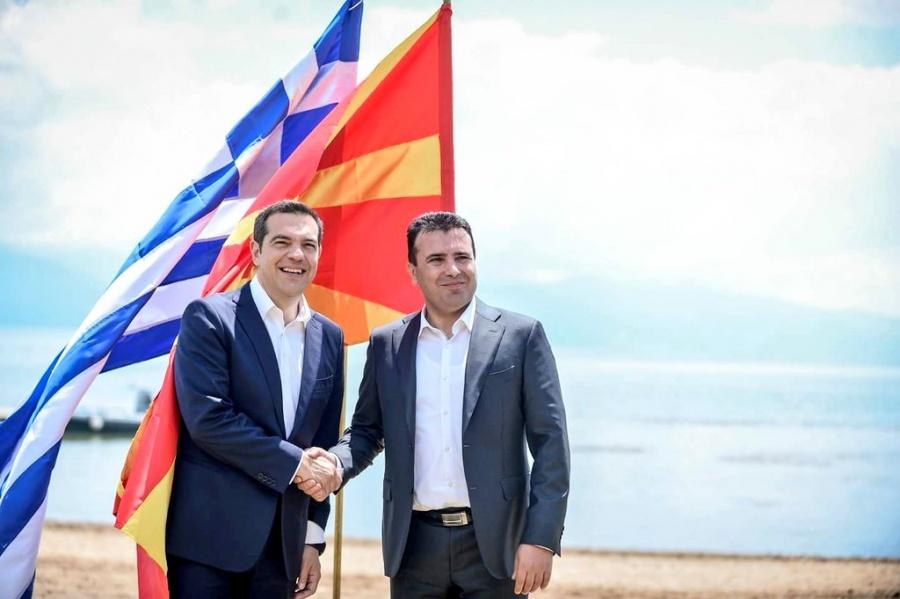 Greece's real desire to integrate fYROMacedonia into the EU noted the President of the the Hellenic Republic, Prokopis Pavlopoulos, noting that he would not accept "arbitrary interpretations" of the Prespes Agreement. The Greek President made this statement in the context of his meeting with his Slovenian counterpart, Borut Pahor, on the alleged statements by Prime Minister Zoran Zaev on "the possibility of teaching the Macedonian language in Greece" after the ratification of the Agreement.
As Mr Pavlopoulos has noted, the accession of fYROMacedonia to the EU and NATO requires the resolution of the name issue, pointing to the changes agreed, to be made in the legal order and especially in the country's Constitution. It is noted that the Government Spokesman of fYROMacedonia, Mile Bosnjakovski, made a statement on the matter to IBNA.
Al. Tsipras: The Prespes Agreement is balanced for both sides
For a major deal that is "balanced for both sides" spoke the Greek Prime Minister at his meeting with the Slovenian President. He even said he was happy to see the government of fYROMacedonia progressing "fast" with the process of constitutional revision as envisaged in the Prespes Agreement, changing their constitutional name.
"Our vision must be that the Balkans are not from now on Europe's "gunpowder warehouse", but the region that will give a new dynamic and breath in the name of the unity of the peoples of Europe", Alexis Tsipras said.
K. Mitsotakis calls for the non-ratification of the Agreement
His position not to ratify the Prespes Agreement reiterated the leader of New Democracy, Kyriakos Mitsotakis, calling on the parties and MPs to vote against it when it is tabled in the Greek Parliament. As he stated, the recognition of "the so-called Macedonian language and ethnicity opens the Pandora's box for the revivification all the historical inaccurate irredentist claims of Skopje"./IBNA