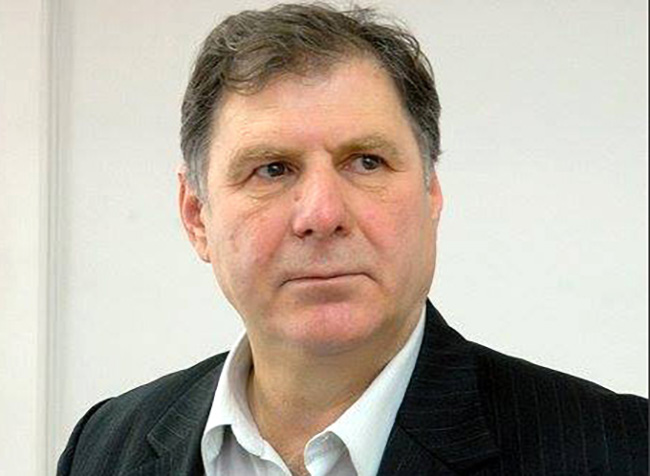 Erol Rizaov
In the past few days, flags workshops worked three shifts with an enticing express order. New flags were sewn with the sixteen-rayed Vergina sun. On the evening of October 23, the 126th anniversary of the founding of VMRO, we saw the first renewal of Macedonia of Hristijan Mickoski's project when VMRO convoys took to the streets of Skopje with two freshly sewn flags on each vehicle. The renewal of the flags was Mickoski's first very successful and major step in agreement with followers, whom he calls citizens, to convince Europe that it had not made a mistake when it failed make a positive decision to open negotiations with Macedonia.
The fact that the whole of Europe and almost the entire progressive world is against the injustice inflicted on Macedonia by the French veto demanding immediate correction is not worth anything in our domestic party market. The Vergina Sun on the new flags should silence them and say – please stop defending us, we ourselves, as descendants of Alexander the Great, can ruin much more than you can harm us. The horns of the cars waving the flags until late in the night indicated that Macedonia had been rescued. Out of joy and noise, the citizens could not get a good night's sleep until very late. The celebration of the founding congress of VMRO in Thessaloniki marked the strategy of the struggle for power and return of Macedonia to where it was, in solid positions before Nikola Gruevski's escape from the country.
Hristijan Mickoski will calculate the size of the circle in the coming days, explaining how he and his party plan to bring us to Europe with the sixteen-rayed Vergina sun and the renewal of his predecessor's anticomania. The equation is unsolvable, Professor. You all are, as you say, in favor of Macedonia's membership in the EU and NATO, but this will never happen by renewing old ideas. It does not go together, it is one of the unsolved problems whose wrong and false results have ruled you for 11 years without control. Your followers say that by not getting a date for negotiations with the EU, the agreements with Greece and Bulgaria are void. You do not deny it at home to the citizens of Macedonia, but only flirt before the sister parties of Europe and before Brussels, secretly promising that if you win power you will not change any of the signed agreements. It is just as you promise to restore the rule of law and the fight crime and corruption, the illicit enrichment by declaring your convicted and suspected predecessors innocent victims of violent justice by an illegitimate government. What kind of restoration of the rule of law is that when it's only applies to political opponents? Rule of law means that everyone is equal before the law.
With such commitments, if you win power, you will really be able with the help and support of conservative and nationalist currents in the EU, to make the agreements with Greece and Bulgaria for good neighborly relations unsustainable without much work. Delaying EU negotiations is in line with your 2006-2016 recent restoration strategy. Without the start of negotiations, indeed, the Prespa Agreement has provisions that undermine its mutual acceptance and sustainability long-term. Great political will, wisdom and patience need to continue with reforms and activities to save the greatest achievements in relations with neighbors since Macedonia's declaration of independence to date. All these efforts of European statesmen and governments not to spoil what has been achieved and to be patient are not in vain, since Macedonia's European future has not been questioned by anyone, not even by President Emmanuel Macron, despite his firm 'NO'. It is very easy to ruin it all, it does not take much courage, but only cowardice and primitive populism supported by fake news and endless TV sessions with party patients.
Although we have great cause for anger at the injustice of the historic mistake of the EU, the announced visit of French President Emmanuel Macron to Macedonia should be accepted as a good sign. Macron could not come to Skopje with worse news than those announced in Brussels. On the contrary, one should expect that Macron needs to announce something good that will restore the hope of a quick start of negotiations. The visit should be well prepared with the strong arguments we have, and heard and accepted by the whole of Europe, he should be welcomed with dignity and endowed with our traditional hospitality without an ounce of servility. We also have a lot of things to say to the French President and the French people, both from a historical and present aspect. We have to admit that what we have at least done in the past 30 years of independence is that we have not corrected the bad image and prejudice of Europeans, the ordinary citizens, Macedonia and its citizens, an ugly image that drags through their educational process and collective memory from the late 19th and first half of the 20th century that has largely created the VMRO in its various controversial historical periods of mutual killing and assassination in European cities. Today, immigrants from Macedonia living and working in European cities and EU member states are loyal and hard working citizens that cause no trouble to these countries. Data show that Macedonians in Europe are integrated into their new homelands, and are more loyal to the country than those born there. President Macron should hear that in exact numbers here in Skopje.
In a congratulatory message to the leadership of VMRO-DPMNE who proclaimed themselves VMRO's successors in honor of October 23, I re-publish, for the tenth time, the quote of one of the most educated founders of VMRO 1893 in Thessaloniki at a congress held at his house in Thessaloniki, Ivan Hadzi Nikolov. Here is what he wrote about VMRO in his memoirs: "The thought that something should be written about the Revolutionary Organization fills my heart with blood. To write about an organization that results in the ruin of Macedonia, though it is not the organization itself, but Sofia, with its king, its ministers and generals, with its state, not nationalist policy, buried Macedonia and It caused great number of deaths and material goods, and I still feel guilty for all those atrocities that my comrades and I have become the cause of the revolution and consequent destruction of Macedonia and the Macedonians. And their Macedonian spirit amazes me, how those people didn't stone us after seeing the gruesome and unfortunate way out of our revolutionary initiative. The whole of Macedonia, as one man, with a touching unity walked behind us, gave us all his support and all his moral confidence, to lead him to liberation, and it turned out that we were leading him to ruin and new, even more difficult slavery, and in such, diametrically opposite results, again not accusing us, not insulting us, not whispering against us – the creators of the Revolutionary Organization and the leaders, so silent and in complete submission to their fate to carry the cross, it causes great admiration in me, and I say: Macedonians, you are not just heroes, but saints as well. You deserve all the sacrifices".
Later, under the heavy burden of guilt and responsibility, pressured by a serious illness, Ivan Hadzi Nikolov took his own life.
Those who are considered the successors of VMRO, placed today at the top of VMRO-DPMNE, should read Ivan Hadzi Nikolov's message three times a day to avoid the ruin of Macedonia again in the 21st century.
Views expressed in this article are personal views of the author and do not represent the editorial policy of Nezavisen Vesnik