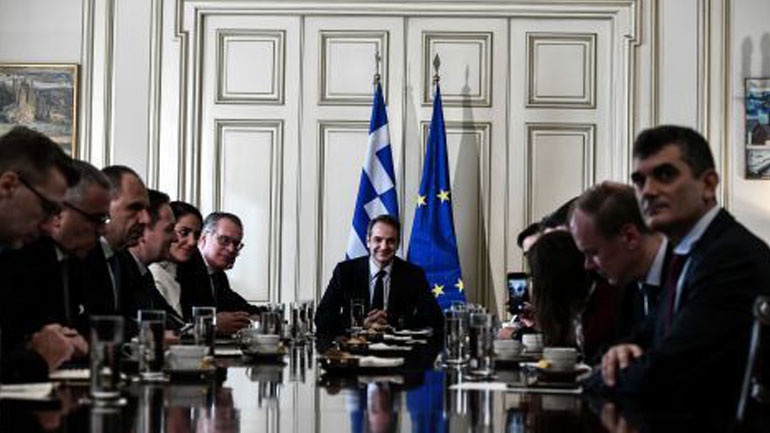 The refugee-migration issue was discussed at a meeting between Prime Minister Kyriakos Mitsotakis and the Vice-President of the Commission responsible for promoting the European way of life Margaritis Schinas and Commissioner for Home Affairs on refugee issues Ylva Johansson.
According to the briefing at the government's headquarters during the reception of the two officials, Mr. Mitsotakis noted that Greece relies heavily on European solidarity to tackle the problem, referred to the Greek proposals for a European return mechanism and insisted on the need for reasonable burden sharing.
Margaritis Schinas – whose portfolio also includes immigration – referred to the prospects of European solidarity, as well as to the new asylum pact being prepared by the EU. Ms Johansson acknowledged the great pressure Greece is facing, pointing out that this is a European problem and not just a problem faced by Greece.
Specifically, Mr Mitsotakis said: "…Especially for Margaritis, it is a privilege for Greece, for the first time, to have a Vice President in the Commission responsible for an extremely important portfolio. I consider it very important that you chose Athens for your first visit and I think it is very important that you go to Ankara tomorrow… This is an issue that has a clear European dimension, it is not a Greek-Turkish issue, it is a matter for the whole European Union. We are really looking forward to your help and your tangible suggestions on this".
On his part, Mr Schinas said that "Our intention is to discuss three issues: the Agreement, the element of solidarity, the situation as it is today and – of course – the EU-Turkey Agreement, which is critical for the organized management of migratory flows.
Mrs Johansson said: "We have this very difficult task of unblocking the stalemated situation, of finding a common European policy on immigration and asylum. Every week we don't have that, we pay a heavy price, especially for a country like Greece, which is under a lot of pressure because this is a European problem, not just a problem for Greece".
Meeting with Domna Michaelidou and Irene Agapidakis
The meeting was followed by a meeting, in which in addition to Mr Schinas and Mrs Johansson, participated the Minister of Citizen Protection Michalis Chrysochoidis, the Deputy Minister of Citizen Protection, responsible for Migration Policy Giorgos Koumoutsakas, the Minister of Labour and Social Affairs, responsible for Welfare and Social Solidarity Domna Michaelidou, the Deputy Prime Minister, Coordinator of the Government Project Akis Schertzos, the Deputy Minister under Prime Minister and and Government Spokesman Stelios Petsas, the Director of the Diplomatic Office of the Prime Minister, Alexandra Papadopoulou, the Head of the Prime Minister's office responsible for EU issues, Dimitris Mitropoulos, and the National Coordinator for unaccompanied children Irini Agapidakis./ibna