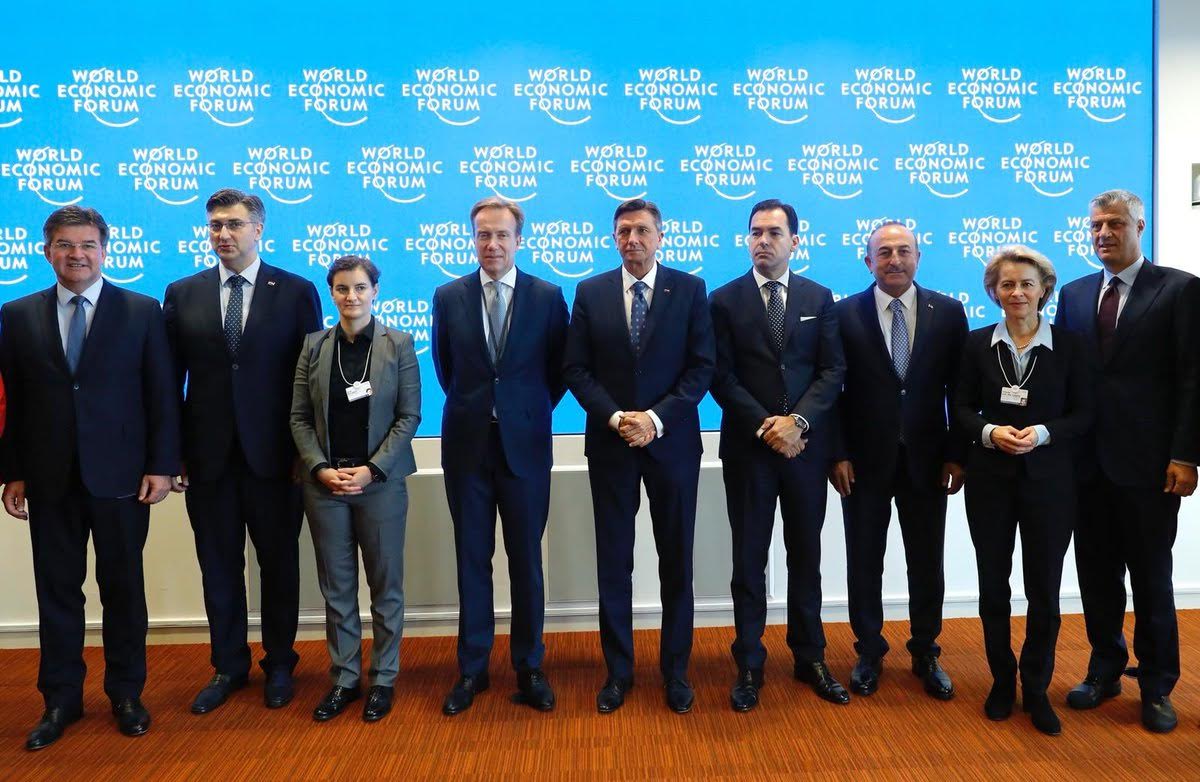 Albania, Montenegro and Serbia's government representatives travelled to Geneva ahead of the World Economic Forum 2019 with the aim to lay the foundations in order to be able to join it. The common goal is the development of closer economic ties with a view to securing stability in the region and enhancing competitiveness.
This was also attended by government officials from Croatia, Slovakia, Bulgaria, Slovenia, Bosnia and Herzegovina, FYROM, Turkey, Germany and Switzerland.
Through the "Strategic Dialogue on the Western Balkans" workshop a need has emerged for another meeting of the SEE leaders, this time in 2019, and the establishment of a Western Balkans Competitiveness Council to improve the economic parameters, infrastructure development, market performance and the creation of an 'ecosystem' that will boost innovation and entrepreneurship.
The communiqué outlines an intention to collaborate on:
Establishing an affiliated Centre for the Fourth Industrial Revolution: as part of the Forum's network of Centres for the Fourth Industrial Revolution, this centre will help prepare the region for the fundamental economic and societal shifts presaged by emerging technologies such as artificial intelligence
Organizing a Regional South Eastern European Summit in 2019 with all relevant leaders from the region and Europe.
Setting up a Western Balkans Competitiveness Council to improve the region's fundamental drivers of productivity, including better infrastructure, well-functioning markets, efficient institutions and a healthy ecosystem for innovation and entrepreneurship
Formalizing a cooperation agreement with the World Economic Forum's Centre for Cybersecurity
Opening 10 new Global Shaper hubs across the region, thereby ensuring a platform for collaboration for the next generation of leaders.
"The Western Balkans have always influenced the history of Europe. Today, with the commitment to work together to improve the economy and on social issues that shape our world, the leaders of these countries send out a clear message that the only way to ensure peace, stability and prosperity is through greater co-operation", said Klaus Schwab, Executive Chairman of the World Economic Forum.
World Economic Forum chairman Børge Brende noted for his part that "the joint communique marks the change of vision of the leaders of the Western Balkan countries. With close co-operation in areas of the economy with the aim of growth and social stability, the foundations for a better future for the region are laid." And in an interview of his, he added that, "What happens in the Balkans will have huge implications for Europe in the future — and this is too frequently neglected. What we have learned during the last years is that complacency is not a good idea."
"Serbia is implementing a tough reform agenda, with emphasis on education and the economy. the implementation of these measures has brought stability, but long-term stability in the Western Balkans can only be ensured by working together on the basis of mutual respect and recognition of common values", is what the Serbian Prime Minister Ana Brnabić noted.
Croatian Prime Minister Andrej Plenković said that, "this meeting gave us an idea of ​​how the future can be better for the region. The combination of the fourth industrial revolution with public-private partnership is essential and that is why this dialogue is important."
Present at the meeting were: Ana Brnabić, Prime Minister of Serbia; Mevlüt Çavuşoğlu, Minister of Foreign Affairs of Turkey; Miroslav Lajcák, Minister of Foreign and European Affairs of the Slovak Republic; Ursula von der Leyen, Federal Minister of Defence of Germany; Krystyna Marty, Deputy State Secretary and Deputy Political Director, Federal Department of Foreign Affairs of Switzerland; Borut Pahor, President of Slovenia; Lilyana Pavlova, Minister for the Bulgarian Presidency of the Council of the European Union 2018; Zoran Pažin, Deputy Prime Minister for Political System, Internal and Foreign Policy and Minister of Justice of Montenegro; Andrej Plenković, Prime Minister of Croatia; Edi Rama, Prime Minister of Albania; and Hashim Thaçi, President of Kosovo…. / IBNA