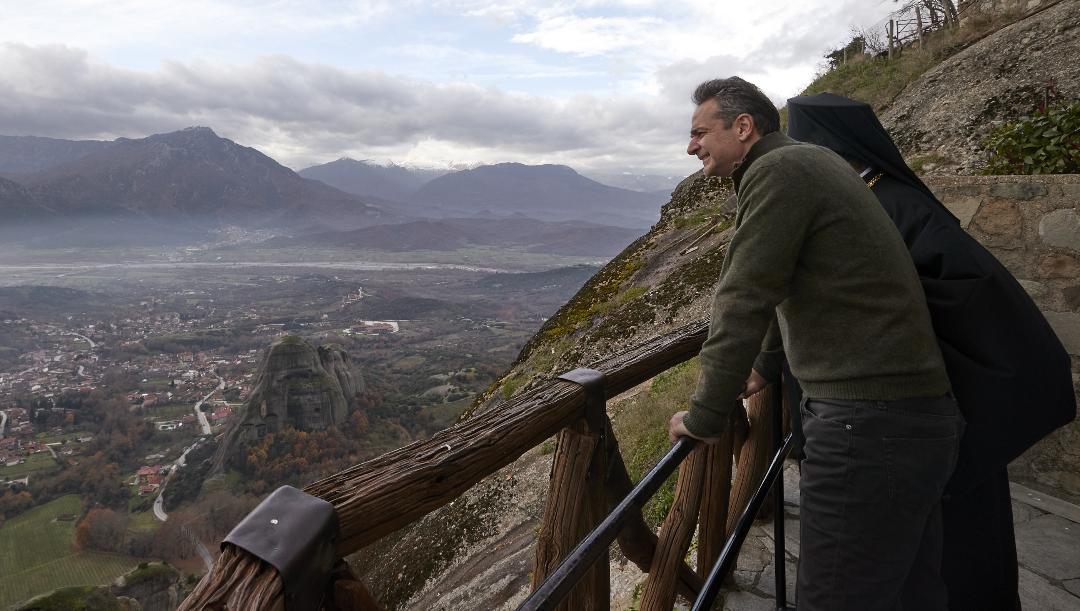 SYRIZA sent out a stern message to Kyriakos Mitsotakis that the institution of the President of the Republic is not intended for cheap political games and intra-party balance exercises. Meanwhile, the movements recorded within New Democracy are indicative of the fact that the Prime Minister's decision regarding the new President could terminate the grace period the party has been enjoying since the July election victory.
Kyriakos Mitsotakis, who has returned from his five-day vacation in the mountains of Metsovo – he had stated that he would be making his decision from… the "mountains" – talking to reporters, cryptically said that "there is still time", clarifying that he would be making the final decision after his visit to Washington and his meeting with Donald Trump.
It is also noteworthy that there is a 50%-50% chance of a woman being elected to the top post. After all, former Commissioner and Chairman of the Coalition more than 30 years ago ("ancestor" of SYRIZA) Maria Damanaki is featured as a strong contender representing the center-left. However, SYRIZA officials have made it clear that the main opposition would not be supporting this candidacy.
On the main opposition's side, it has become evident that at the moment, especially given the tension in the Eastern Mediterranean and the Turkish provocations, a President is required to ensure maximum political and social consensus. And that is none other than the current President of the Republic, Prokopis Pavlopoulos.
"Mr. Mitsotakis' petty political tactics and New Democracy's internal balances and contradictions cannot define the election of the President of the Republic", SYRIZA comments, accusing the prime minister of debasing the prestige of the institution and urging him to clearly state his position. They also point out that, in the event that Kyriakos Mitsotakis rejects the renewal of Prokopis Pavlopoulos' term of office, he must explain the reasons.
However, as thick clouds of bad weather have settled over Greece, they are also evident over Kyriakos Mitsotakis's party. The so-called "patriotic wing" – a far-right group according to the main opposition – has already positioned itself in favor of former Prime Minister Antonis Samaras, as top-shelf political figures and government officials are becoming vocal. For Kyriakos Mitsotakis, this is an unlikely scenario.
The news in today's pro-government press shed light the controversies within New Democracy. It is noteworthy that the historic conservative newspaper "ESTIA" underlines that the election of a President of the Republic "could easily turn into an intra-party issue for the center-right".
In the same vein, the proposal for Maria Damanaki is being castigated, while some speak of a "deal with PASOK": "You vote the electoral law for me, I vote the President of the Republic for you". At the same time, the "pro-Samaras" wing of New Democracy is criticized by a newspaper believed to reflect the views of the executives endorsing Karamanlis.
The also right-wing liberal.gr, which openly backs New Democracy, is warning Kyriakos Mitsotakis that any attempt to endorse current President Prokopis Pavlopoulos would constitute a "historic mistake", as there was a proposal by SYRIZA and Alexis Tsipras' administration. Indeed, the article penned by the editor of the "Phileleftheros" newspaper concludes that in this case it would be preferable for Kyriakos Mitsotakis "to resort to the verdict of the Greek people". /ibna