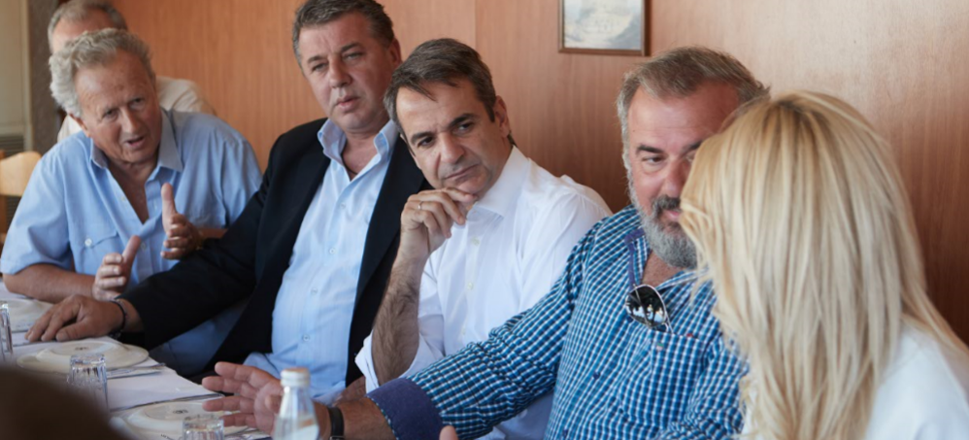 By Maria Lekkakou
Speaking with fishermen in Keratsini, in a region hit by the oil spill of "Agia Zoni II", Kyriakos Mitsotakis directly attacked Alexis Tsipras. Along with ND's demand for the resignation of the Minister of Shipping, Mr Kourouplis, the chairman of the Main Opposition party blasted the Prime Minister for not having visited the region. Mr Mitsotakis also referred to government spokesman, Mr Tzanakopoulos, who, when asked about the matter, replied that the prime minister will go at some point, when his heavy schedule would allow him.
"I am sorry. When you are prime minister, you have to have a basic sense of priorities. We are facing a major ecological disaster. As much as they try to hide it, there are many people who have been harmed, a major disaster has been done on the pearl of the capital and you can not be absent", was Mitsotakis reply, basically implying the prime minister shares part of the blame of the outcome of the ecological disaster.
With regard to the overall attribution of responsibility for the entire ecological disaster, the ND chief spoke of a lack of coordination between the ministries involved, such as the Merchant Maritime Ministry, the Ministry of the Environment and the Ministry of Rural Development, which oversees fisheries on issues of compensation.
Mr Mitsotakis wondered there has not even been a coordinating meeting under the Prime Minister that will be able to put these issues on the table and create a central coordinating body at the highest level to deal with these problems. Someone who can sit everyone down, ask them and give them directions. "This person can only be the prime minister, who I am sorry to say, is completely absent".
"Mental acrobatics by the Prime Minister"
The secretary of the New Democracy Political Committee, Lefteris Avgenakis, also took a swing at the Prime Minister, on the presence of Alexis Tsipras at the 3rd Developmental Congress of Crete, a spring event initiated by the Government on local development and the country's exit from the crisis. "Once again the Prime Minister was lost in mental acrobatics. He was babbling without saying anything".
Mr Avgenakis accused the Prime Minister of promising everything to everyone, without giving anything to anyone, and that his speech was ultimately an essay on the potentials of Crete. When, indeed, Mr Avgenakis added, the reading of the essay stopped, he was caught unread, irrelevant and a liar.
However, all this is a small sample of the "hard rock" we will witness in the House come Monday, as from the morning begins the discussion of ND's proposal to set up a committee of inquiry for the Noor 1 case and the contacts – talks of the Minister of National Defence, Panos Kammenos with lifer Makis Giannousakis./IBNA