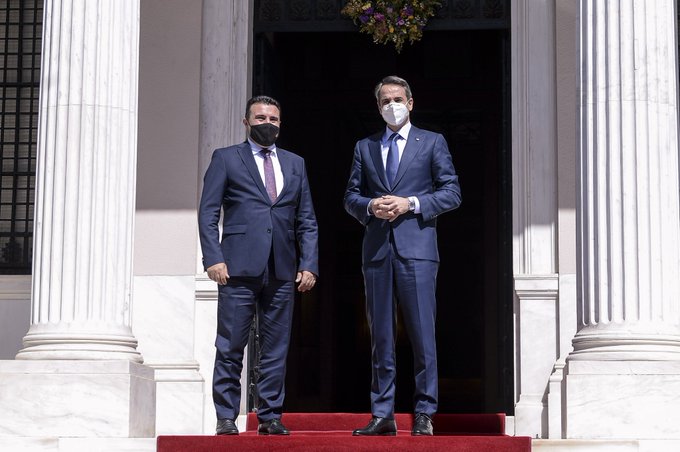 Greek Prime Minister Kyriakos Mitsotakis met at the Maximos Mansion with the Prime Minister of Northern Macedonia, on the occasion of Zoran Zaev's participation in the Delphi Forum.
The Prime Ministers of the two countries noted the progress in the implementation of the obligations under the Prespa Agreement on both sides and expressed their commitment to full and smooth further implementation. It was concluded that the Prespa Agreement brought solutions that mean friendship, progress and economy.
Regarding the European integration of North Macedonia, PM Mitsotakis told PM Zaev that Greece will always be an ally that the citizens of the Republic of Northern Macedonia can count on.
The common conclusion of the prime ministers was that North Macedonia can not and must not wait further on the European path and that the pre-accession negotiations with the EU should start an hour earlier.
The country has shown that it has a serious capacity to conclude and fulfill friendship agreements, Mitsotakis and Zaev agreed.
In addition, it was stressed at the meeting that there is no option to secede from Northern Macedonia and Albania regarding the start of the negotiation process with the EU.
For most of the meeting, the two countries 'prime ministers discussed strengthening economic co-operation opportunities, as well as business opportunities stemming from co-operation between the two countries' chambers of commerce. The Greek Prime Minister stressed that for economic and geopolitical reasons, Greece welcomes and strongly supports the decision of Northern Macedonia to invest in the gas projects of Alexandroupolis
During the meeting, Prime Minister Mitsotakis informed Prime Minister Zaev that starting tomorrow, May 14, 2021, the border crossing "Evzoni" will be opened for all citizens of Northern Macedonia who have a negative PCR test, written proof of receiving two doses of vaccine against COVID- 19 or a positive result for antibodies.
Earlier PM of the Republic of North Macedonia Zoran Zaev spoke at the Delphi Economic Forum held out of Zappeion Hall in Athens.
Zaev said a mutual trust is building between the two countries, especially after the signing of the Prespa Agreement in June 2018, which allowed North Macedonia to join NATO and to begin the process of applying for accession to the EU. "We are allies and it is an honor to have Greek armed forces guard North Macedonia's airspace," he said.
He also noted that he and Prime Minister Kyriacos Mitsotakis had built a very good relationship and collaboration, and that the Greek PM had sent supplies worth 2.6 million euros to North Macedonia. "We are a developing country and we needed help, and Greece offered it first," he noted.
Asked about Bulgaria's objections to its EU accession, North Macedonia's leader said that the problem in relations between the two countries was created by the other side, and an intergovernmental conference between them would provide that step towards resolution, which would benefit both countries.
Zaev also mentioned his relationship with SYRIZA leader Alexis Tsipras, under whose rule the Prespa Agreement was signed, and said they remain good friends and are open to new ideas and collaborations./ibna