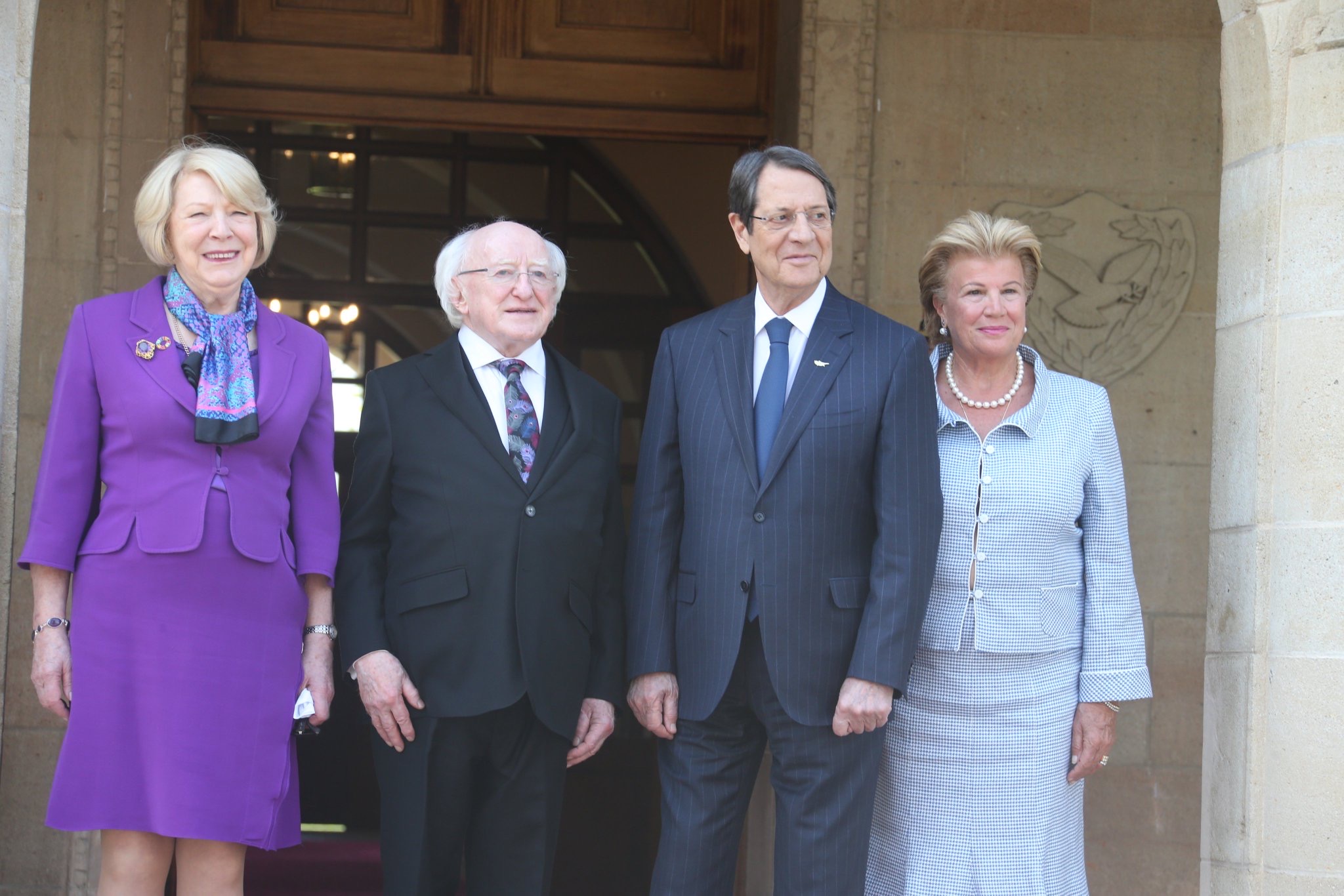 The President of the Republic Mr Nicos Anastasiades and his spouse Mrs Andri Anastasiades hosted tonight, at the Presidential Palace, a state banquet in honor of the President of Ireland Mr Michael D. Higgins and his spouse Mrs Sabina Higgins.
In his toast at the banquet, President Anastasiades said that "
It is truly a great pleasure to welcome President Higgins and his wife Sabina to Cyprus. Above all, it is a distinct honour for me and my wife to reciprocate the warm hospitality extended during our visit to beautiful Ireland in October 2016.
This exchange of visits at the highest level reflects the foundations on which our excellent long-standing relationship is based: On a shared vision for peace and democracy, in line with the principle of multilateralism, and on historic bonds of friendship, both at the government and the peoples' level.
At the same time, there are some other common characteristics that come to mind when we think about Cyprus and Ireland and our parallel histories:
We are proud island nations, rich in cultural heritage and tradition;
We have both struggled to attain independence in modern times;
We have experienced severe economic crises, and, through the resilience of our peoples, we have achieved remarkable recoveries, and;
We have large Diasporas, closely linked to our home countries.
I am extremely pleased to witness the relationship between Cyprus and Ireland growing to a solid partnership.
And as I assured President Higgins this morning, I am sincerely determined to further strengthen our cooperation, both at the bilateral and multilateral levels, particularly within the European Union and the United Nations.
Such cooperation is vital in these challenging times, particularly in view of the UK's exit from the EU. As I already conveyed, Cyprus stands in full solidarity with Ireland on this very sensitive issue.
I will avoid referring to the wide range of issues we discussed with President Higgins during our fruitful meeting this morning.
However, what I would like to stress is that Ireland and Cyprus see eye-to-eye on the need to collectively address the challenges which test our common EU values, particularly on migration, climate change, and of, course, on Syria, following Turkey's unacceptable and unilateral military action which must immediately cease.
Dear President, as You eloquently stated during my visit in Dublin in 2016, and I quote: "However different our histories may be, we are two islands with a common experience of painful division between our Northern and Southern parts".
In this regard, I would like to once more assure You Mr. President of my unwavering dedication and strong commitment to efforts aiming at the resumption of negotiations the soonest possible, with the aim of reaching a functional and viable settlement in line with International and EU Law.
A settlement that will ensure a common and prosperous future for the coming generations of Greek and Turkish Cypriots, allowing them to live freely together, under conditions of stability, safety and peaceful co-existence, without any foreign dependencies.
On a personal note, I wish to note the fact that, almost a year ago, President Higgins was elected for a second term by the highest vote in any of the presidential elections in the history of Ireland.
This is testament of the President's immense popularity among the Irish citizens and that he continues to inspire the people of Ireland as an outstanding example of a political personality who combines common sense and rationality, with creative imagination.
Virtues also derived by the President having studied the great contribution to philosophy, ethics, logic and the demands of reason by the ancient civilization of Greece on which, I was informed he excelled, whereas during his academic career he maintained a keen interest in classical authors, especially Plato and Aristotle.
In once more welcoming you to Cyprus, I hope that you will have a pleasant stay and that you will enjoy Cyprus' rich history and culture during your visits in various parts of the island.
With these thoughts, I propose a toast to the health and happiness of President Higgins and the First Lady, to the progress and prosperity of the friendly people of Ireland and to the close friendship between Cyprus and Ireland.»
On his part, the President of Ireland said that "it is an honour and a pleasure for Sabina and me to be with you here tonight on the occasion of my State visit to your country. The visit by you, President Anastasiades, and Mrs Anastasiades, to Ireland in 2016 is remembered with great warmth. May I now thank you for the warmth of the welcome you have extended to me and to the entire Irish delegation.
This is my first visit to Cyprus and its unique landscape, ancient cultural heritage and the warm friendliness of your people, but our relationship is a deep one. Indeed, the friendship between Ireland and Cyprus is strong and historic. As Island nations we share much that Island life determines. We have new challenges in common for which we share a spirit of mutual support. A shared historical experience, new challenges of a global and personal kind, have benefitted from the profound sense of empathy that has evolved and been created by the enduring bond between our two countries.
I am delighted to acknowledge the presence here this evening of the founder members of the recently established Cyprus Ireland Association and to wish them every success in their efforts to strengthen the social and cultural connections between the two countries. I greatly look forward to meeting more members of our wider Irish family when we share a night of culture tomorrow at the beautiful Cyprus Theatre Organization in Nicosia.
Ireland and Cyprus both understand the vital relationship with the sea that Island nations share. During my visit here I will be visiting Larnaca and look forward to meeting with those involved in the development of your new Maritime Institute.
The Institute will, I understand, be closely modelled on the Irish Marine Institute whose research is so important to us in developing policies which will support the sustainable development of Ireland's marine resources. I know that Cyprus shares with Ireland a common concern for the conservation and sustainable use of the oceans and their resources, and an understanding that the world can no longer continue testing them to their limits.
Earlier today I met with serving members of An Garda Síochána who are continuing the tradition of Irish involvement in the UN Mission in Cyprus. In Ireland we have a profound understanding of the great difficulties involved in overcoming a legacy of conflict and division. We have been very fortunate to see our peace process move forward since the Good Friday Agreement in 1998 and I greatly hope that your journey towards peace and reconciliation on the island of Cyprus will have an equally positive outcome.
May I once again, President Anastasiades, offer my sincere thanks for your hospitality and ask you all to join with me in a toast to:
The good health of President and Mrs Anastasiades
To the peace and prosperity of the people of Cyprus and to the enduring friendship between Ireland and Cyprus."/ibna