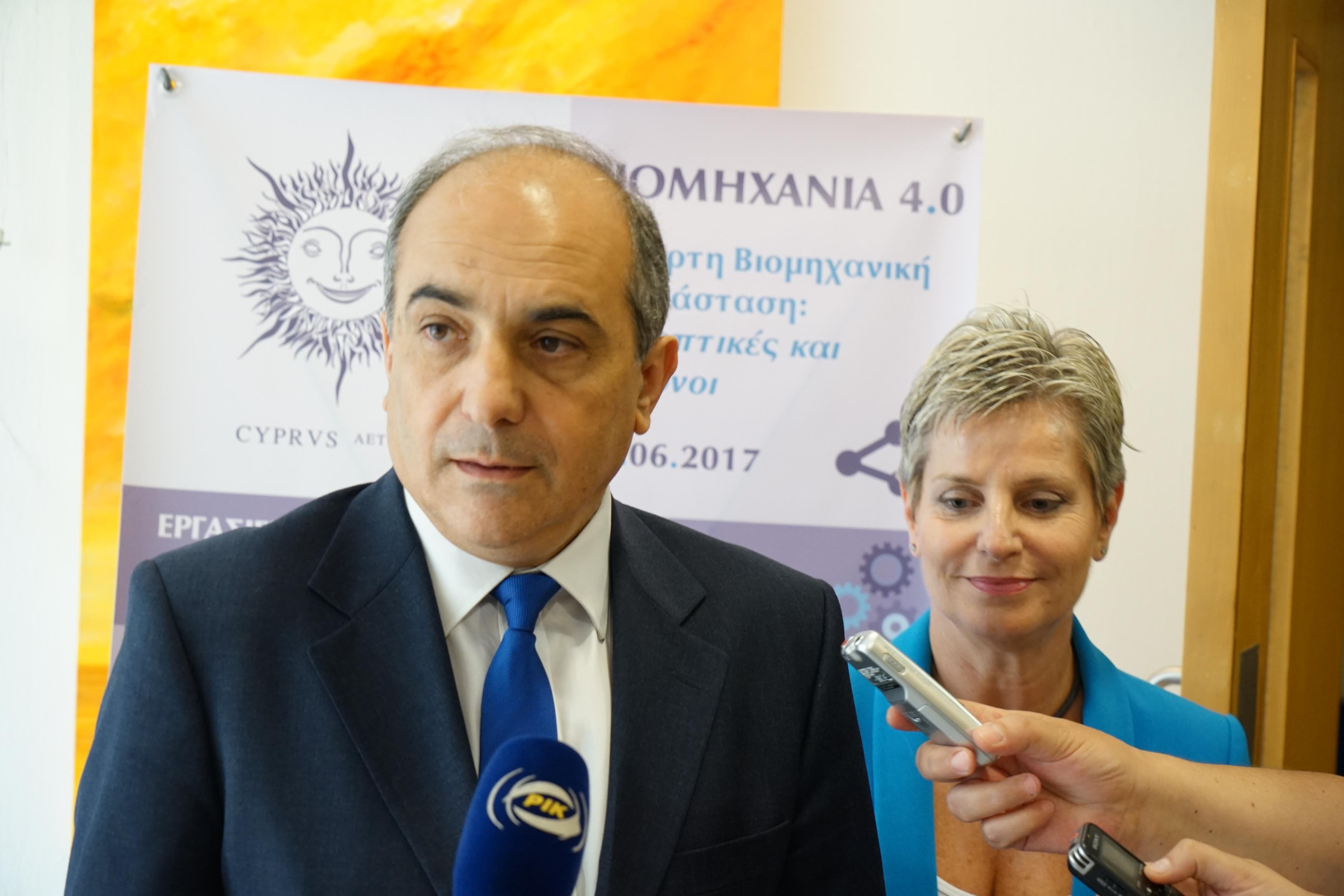 A series of contacts and meetings with European officials from the European Commission and the European Parliament were held in Brussels on September 6th, 2017 by the President of the House of Representatives, Demetris Syllouris.
In particular, House President Syllouris had separate meetings with the European Commission responsible for Immigration, Home Affairs and Citizenship, Mr Dimitris Avramopoulos, the President of the Group of the Progressive Alliance of Socialists and Democrats (S&D), Mr Gianni Pittella, the Co-Chair of the European Conservatives and Reformists Group (ECR), Mr Syed Kamall, and the President of the Europe of Freedom and Democracy Group (EFD), Mr Nigel Farage.
The latest developments on the Cyprus Problem were high on the agenda of the talks, with Mr Syllouris stressing on the need for the EU to put pressure on Turkey over a settlement to the Cyprus problem. All of Mr Syllouris's interlocutors favored the continuation of the dialogue and the efforts for a solution to the Cyprus problem to be reached.
On his part, EU Commissioner Avramopoulos said that Europe stands by Cyprus, at a time when the Republic of Cyprus is a cornerstone of the European construction in a particularly sensitive geopolitical zone.
S&D President Pitella expressed Group's commitment to resuming negotiations that aim to Cyprus's reunification and noted that any agreement regarding the Cyprus problem should respect the principle that an EU member state shall not be under guarantee of any third country.
ECR's Syed Kamall said that during the meeting, the Cyprus Problem and the existing concerns over the need for the resumption of the negotiations were among the issues of discussion.
EFD's Nigel Farage said that when Cyprus joined the EU there was a notion that Cyprus membership could mitigate Turkey's behavior; a notion that was proven wrong. He further expressed the view that Turkey will not join the EU, while the public opinion in Europe, due to the Turkish leader, is set against Ankara.
Further, House President Syllouris exchanged views regarding Brexit, the future of Europe, migration and security issues and youth unemployment.
Mr Syllouris will continue his contacts today and he will return to Cyprus on Thursday September 7th, 2017./IBNA