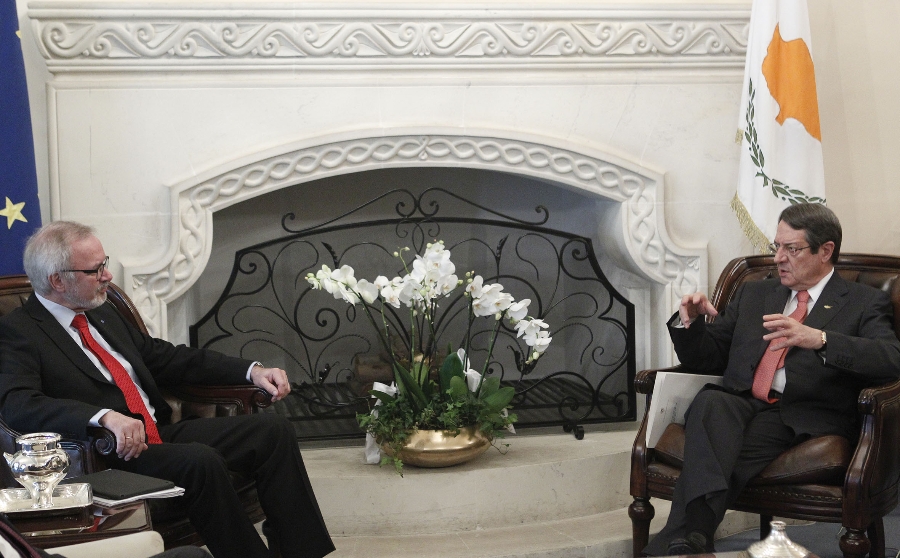 The President of the Republic of Cyprus, Mr Nicos Anastasiades, received today, at the Presidential Palace, the President of the European Investment Bank, Mr Werner Hoyer.
In his remarks to reporters after the meeting, Mr Hoyer said that "I visit Cyprus frequently and I am in constant exchange of views with the President and today again I had the pleasure and honor to meet the President.
Of course, we discussed the recent developments in the EU and in Cyprus and we celebrated the closure of the books of last year.
We have been more active in Cyprus than ever, we exceeded our target by 30 million, to go from 200 to 230 million euros in Cyprus. It was a very good year and in addition to that for the so called Juncker Plan, investment plan for Europe in the last year we had the first big program in Cyprus. Cyprus is now one of all 28 countries, in which the Juncker Plan is active. So it was a very good opportunity to exchange views".
Invited to comment on the course of the Cyprus economy, Mr Hoyer said that "obviously, the rate of unemployment is still much too high, this is obvious but the situation is recovering well.
Cyprus has made huge progress and this is due to the resolve and the courage of the Cypriot people and they have gone through suffering for many years and it is paying off now. So from that point of view, I am quite happy.
On the other hand I must say there is still a lot to be done and we are ready to do so. We have been in Cyprus since Cyprus moved closer to the EU, entered the EU, went through the crisis, we stayed during the crisis and we will stay after the crisis and even continue and increase our business"./IBNA