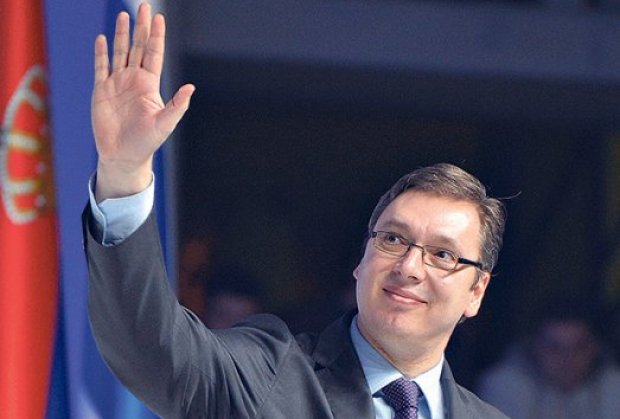 By Milos Mitrovic – Belgrade
New Serbian government sworn in on Sunday will have three main priorities – adopting important economic measures in the Parliament, developing the private sector and budget consolidation via savings. One of the smallest cabinet, since the multi-party system was introduced in 1990, led by Serbian Progressive Party (SNS) head Aleksandar Vucic has 18 ministers including two members without portfolio.
Ministerial posts are shared by SNS and Socialist Party of Serbia (SPS), while ethnic minority group Alliance of Vojvodina Hungarians (SVM) has five state secretary posts. SPS leader and Vucic's predecessor on Prime Minister post Ivica Dacic is now deputy PM and foreign minister. Thus, SPS remains on power despite the friction it had with SNS in Dacic's cabinet that had been formed in 2012. Analysts have claimed SNS decided to call early elections in March in order to get rid of Socialists; however, Vucic insisted on wider coalition due to "national unity" needed for the implementing the reforms.
On March 16 elections SNS scored 158 MP's out of 250 and SPS 44; Democratic Party (DS) and New Democratic Party (SNS) of former Serbian president Boris Tadic remained in opposition with 19 and 18 MP's respectively.
Sunday parliamentary session finalized with oath ceremony was marked with two precedents; expose by now Prime Minister Aleksandar Vucic lasted more than three hours and was followed with a rally in front of the Parliament resembling the coronation. A few thousands SNS members, among others, came to hail the new PM.
Parliamentary session was attended by European Union and United States ambassadors, as well as representatives of religious communities.
Aleksandar Vucic, lawyer, former ultra-nationalist and football fans leader, as new Serbian PM characterized by media as "the leader of democratic reforms" and "the most powerful man in Serbia" intends to integrate the country into EU in 2020, clear it from corruption and heal the economy. On the other hand, DS and some intellectuals claim that Vucic leads Serbia toward the new authoritarianism, illustrating this by what they call arbitrary imprisonments and pressure on media.
Amid the oath ceremony, SNS accused RTS, national state-owned television, for broadcasting "shameless lies" against Vucic. SNS announcement was widely criticized by opposition as well as the main journalist associations.
DS leader Dragan Djilas said in the Parliament that the new government has been formed under the influence of "foreign powers", which was rebuffed by Vucic. Djilas explained his claim with SNS vice-president Zorana Mihajlovic appointment for new Construction, Infrastructure and Transport minister; in the previous government Mihajlovic was energy minister, often criticized by Russian officials due to her opposition to some state arrangements with Gazprom. Aleksandar Antic from SPS – who is believed to be more acceptable for Russia – was appointed the new energy minister. Vucic explained that Mihajlovic was the right choice for the Construction ministry in order to fix the previous wrongdoings in the department calling her "bulldozer".
Vucic promised MP's they would "sleep and eat" in the Parliament in order first package of economic measures to be adopted by July 15. He reiterated that pensions will not be reduced despite the International Monetary Fund demands. Vucic said that 20 percent pensions reducing would put already impoverished retirees into even more disadvantaged position. New premier accused former DS led government for unrealistic increase of pensions. At the same time, Vucic reiterated that salaries in public domain would be reduced for 10 percents. The objective of the government is to reduce budget deficit to "three or four" percent of Gross Domestic Product by 2017.
Vucic announced the privatizations of Telekom, national telecommunication company, as well as Elektroprivreda, state electricity company, part of railways and lottery. The optimal solution for Telekom and Elektroprivreda would be partial privatization, PM explained. During his lengthy expose, Vucic quoted former British PM Tony Blair: "I am not afraid of modernization. The only thing that I am afraid of is the possibility of the implementation of reforms to fail".
Earlier this month Vucic admitted that former Blair's Chieff of Staff Jonathan Powell has advised him in several occasions regarding his own cabinet. During his previous term on deputy PM post, Vucic appointed for his advisers former IMF head Dominique Strauss-Kahn and former Austrian Chancellor Alfred Gusenbauer.
Vladimir Gligorov, professor at the Vienna Institute for International Economic Studies, said that the new government has "many priorities and a kind of methods to implement them"; he also called Vucic's cabinet "continuity government that should make the discontinuity" with regard to economy. According to Gligorov, it seems that more things will depend on government than it would be acceptable and needed. Gligorov indicated to the "dis-balance between politicians and experts" in the government.
Political analyst Djordje Vukadinovic believes that the dominant part of government agenda was agreed with IMF. He draws attention to the fact that the government has abolished its Kosovo department, formerly represented by Kosovo ministry and then by the minister responsible for Kosovo.
Serbian political elite attends to finish the process of normalization of the relations with Pristina, which is EU precondition for accession talks with Belgrade.