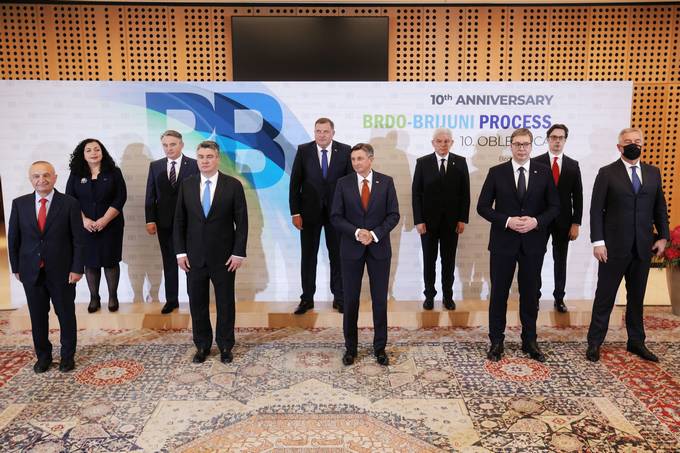 The participants in the Brdo-Brijuni Process adopted a Declaration confirming the importance of cooperation and good neighborly relations in the Western Balkans. They also call on the European Union to speed up the admission of all Western Balkan countries to its community.
"The Brdo-Brioni process has increased the awareness of EU member states and institutions about the importance of faster enlargement to the countries of the Western Balkans." The need to use the recovery from the consequences of the pandemic as an opportunity for a green and digital transition that will lead to sustainable development, offering opportunities to the younger generations, was emphasized, "the Declaration states.
They welcomed the adoption of the EU Economic and Investment Plan for the Western Balkans from October 2020 and the fact that it was accompanied by significant financial resources.
"As part of Europe, the Western Balkans have the right and responsibility to keep pace with the development of the EU member as much as possible. We, the leaders of the Brdo-Brioni Process, are committed to a common vision of Europe, whole, free and at peace. "We underline our commitment to peace and stability, including good neighbourly relations," the leaders said.
They point out that "the Western Balkans is part of Europe and the unification of Europe is not over without the Western Balkans. With EU membership, "borders between member states become less important, and this allows for a wider space for the coexistence of plurality and national identities."
"We reaffirm the need to take into account missing persons during the conflict in the former Yugoslavia and the need to investigate the circumstances under which they went missing, to bring their attackers to justice, which will contribute to reconciliation, peace and stability," the declaration said.
It states "EU enlargement to the Western Balkans region is of political, security and economic interest to the EU, a geopolitical need and the most important political precondition for a stable, prosperous and sustainable future for Europe.
"The EU should become more actively involved in the Western Balkans and encourage countries to meet the conditions for membership as soon as possible. Each partner is aware that it must adopt and implement the necessary reforms, especially in the legal field, democratization and the economy. "The capacity of the EU is enough to accept the Western Balkans as new members," the leaders said.
They stressed "the importance of the visa-free regime for Pristina and called on the EU to open and end negotiations with Albania and Northern Macedonia for EU accession as soon as possible."
At the end of the Declaration, Slovenia's intention to hold the EU-Western Balkans Summit during its EU presidency was welcomed.