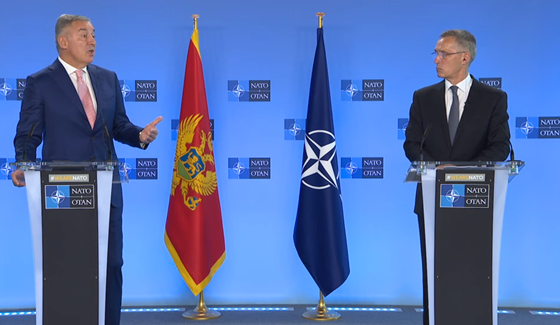 The decision on the increased participation of the Army of Montenegro in the KFOR mission in Kosovo should be made by the Parliament, said today President Milo Đukanović.
He met with NATO Secretary-General Jens Stoltenberg in Brussels today.
Asked to comment on the Montenegrin authorities' decision not to participate in the KFOR mission in Kosovo and whether it could have consequences in Montenegro-NATO relations, Stoltenberg said at a press conference that the state's decision was to send troops or not.
"It is a decision that every ally must make. I will welcome Montenegro's contribution to KFOR because it will support important work. "It will help ensure peace and stability in Kosovo and the wider region, and for Montenegro, it will be a way to help stabilize the neighbourhood," Stoltenberg said.
Asked whether the decision was conditioned by the previous threat of the Democratic Front (DF) to some members of the Government and whether he would raise the issue at a session of the Defence and Security Council, Đukanović said that the decision on that must be made by the Montenegrin parliament.
"The initiative is given by the Ministry of Defence, the opinion is given by the Council for Defence and Security, which I chair, and the final decision is made by the Montenegrin Parliament," said Đukanović.
He said that increased participation is the responsibility of Montenegro.
"Montenegro, as a NATO member, is twice as responsible for the stability of the Western Balkans region as other member countries and many times more interested in that stability," said Đukanović.
He said that there was no serious reason why Montenegro would not participate more in KFOR and that this was the political position of the previous government.
"The hesitations are of a political nature, they are being strengthened by those who are opponents of Kosovo's independence, who are trying to turn the wheel of history backwards. That is an impossible mission and we should not indulge in that retrograde policy. "Montenegro should make a decision on increased participation in the KFOR mission," Đukanović said.
He assessed that, from the point of view of Montenegro, the previous four years of membership in the Alliance were a very positive experience.