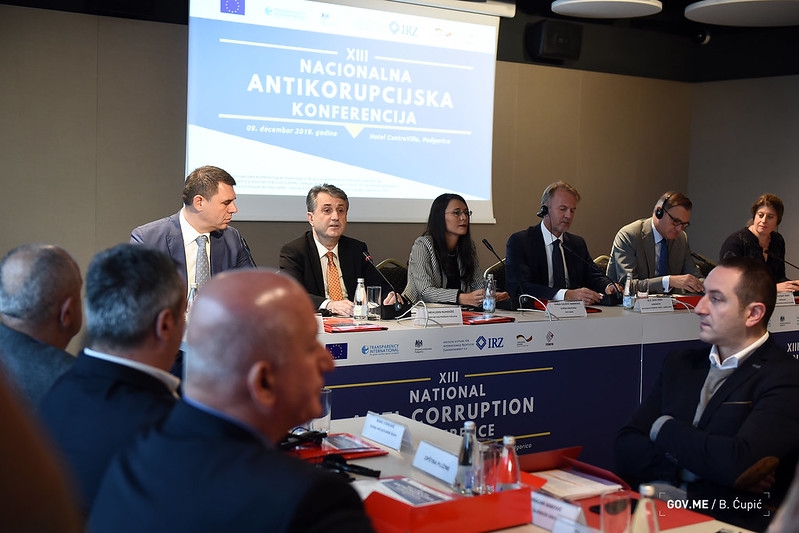 Progress in the field of the rule of law is a key aspect in defining the overall dynamics of negotiations with the European Union, and the anticipated opening of the last chapter is a confirmation of Montenegro's efforts and determination to become a full-fledged EU member state, Chief Negotiator Aleksandar Drljević noted at the 13th National Anti-Corruption Conference organised by the Network for Affirmation of NGO Sector (MANS).
Drljević thanked the EU and the Member States for the strong support they provide on Montenegro's integration path, because, as he added, their experiences and practices, as well as comprehensive civilian sector expertise are necessary for the successful conduct of public policies in the best interests of all citizens.
Despite the challenges the Union faces these days, the Chief Negotiator stressed Montenegro's unwavering determination and commitment to become a full-fledged EU member, adding that with the unwavering enthusiasm of the Government and state institutions involved in the negotiation process, is persistent with the intention of contributing to the overall result of the country in the upcoming, very demanding negotiation phase.
"Building a stable and strong system of rule of law, as the cornerstone of the democratic society we strive for, is the Government's main but a most challenging task. In line with the new approach to negotiations, progress in this area is a key aspect in defining the overall dynamics of negotiations in all other chapters. In this context, I consider that a significant confirmation of our efforts is the recent news of the adoption of the Report on Meeting the Initial Benchmarks for Chapter 8 – Competition from the EU Council, which is a prerequisite for the opening of the only remaining chapter", the Chief Negotiator said.
He recalled that in Chapters 23 and 24, Montenegro has met most of the provisional benchmarks so far and that the results achieved were recognised by the European Commission in the latest Montenegro Report, as well as in the recently published EC Working Paper on Chapters 23 and 24.
"We are aware of the challenges and the evident weaknesses of the system, to which our EU counterparts pointed, and we will work dedicatedly and thoroughly to eliminate them. Starting from the importance for the further flow of reform activities in the rule of law whose benefits all citizens want to feel, improving the results in the field of fight against corruption and further strengthening the independence of all competent institutions in charge of this area will remain at the top of our priorities", Drljević emphasised./ibna