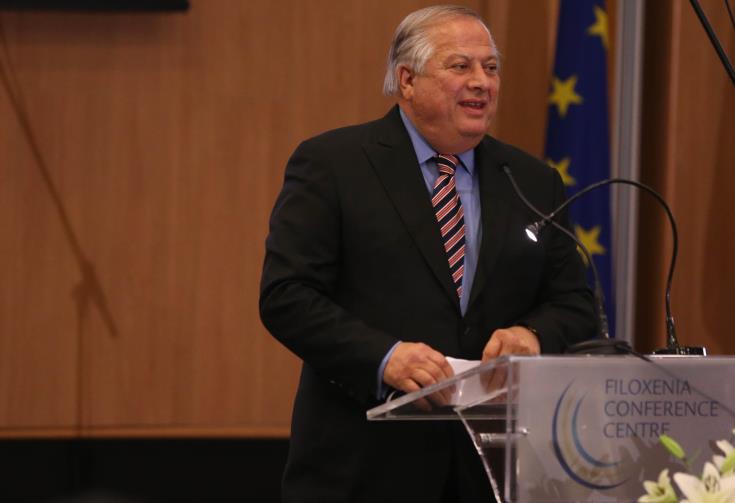 "Mr. Kyprianou has not been informed about the bill by any person or organization involved in its preparation "
By Michalis Michael
Disappointment with the comments of AKEL Secretary General Andros Kyprianou regarding the East Med Act and the recent PSEKA conference, expresses PSEKA President Philip Christopher and the Executive Director of the Council of Hellenic-American Leadership Endy Zemenides, in a statement co-signed by other members of the Cypriot community in the United States.
In the last few hours in Cyprus, Mr Kyprianou has expressed his position against the bill, for which AKELhas released details to the public, with the government of Cyprus showing what is best for the country. AKEL argues by saying that this bill is leading Cyprus into the arms of the Partnership for Peace programme, and that the purchase of American weapons is next, while at the same time Cyprus is being cut off from other countries like Russia. However, AKEL hastened to make clear that its party is not against the upgrading of relations with the United States, but argued that the bill is unbalanced for the Republic of Cyprus. The government considers it harmful to continue the electoral conflict, in particular on foreign policy issues, while it is noted that the attempt to further deepen relations with the United States is not directed against any other country, while it firmly rejected that the government is attempting to militarise the Cyprus problem.
To these AKEL statements replied the expatriates, as the Cypriot agency transferred from the US, where, according to their announcement, it is stated that "Mr. Kyprianou's comments on the East Med Act were at best inaccurate" and that Mr Kyprianou "has not been informed of the bill by any person or organization involved in its preparation". They further believe that "his comments could undermine the new geopolitical partnerships of Cyprus, its relations with the philhellene deputies and senators in the US Congress and with the Cypriot diaspora in the United States. For all these reasons, we are sorry for Mr Kyprianou's comments and we are seeking to correct the wrong impressions they create," they add.
The expatriates speak of Mr Kyprianou's misrepresentation of the origin and the projections of the bill, noting that the "East Med Act" law was not created by the government of the Republic of Cyprus but is based on thirty years of preparatory work done by the Senator Menendez for Cyprus and the Eastern Mediterranean. "This is the next step in the efforts taken up by MPs Billirakis and Deutch, when they founded the Congressional Hellenic-Israeli Alliance (CHIA) and continues the efforts of MP Sisilin to put an end to the arms embargo in Cyprus. It is also consistent with Senator Rubio's approach to the region. So, these officials defined the legislation and the steps that led to it. Mr Kyprianou's criticism ignores all these facts," they said.
The most important development in Greece and Cyprus
The announcement also questions the claims of the AKEL Secretary General for NATO and arms spending, since, as stated, the "East Med Act" does not link the lifting of the arms embargo with the accession of Cyprus to NATO. It is also noted in the announcement that "nowhere is it required in the bill that the Republic of Cyprus spend billions, which it does not have, for the purchase of American weapons."
They also state that "the only argument that was promoted against the lifting of the embargo is the lie that it will lead to an 'arms race' on the island" and they characterize as "worrying that Mr Kyprianou is using the same false argument that Mr Akinci, Mr Ozersay and the representatives of Turkey in Washington against the "East Med Act" also used." Concluding, the expatriates speak of the most important and positive development for Greece and Cyprus in the US Congress since the Truman doctrine./ibna