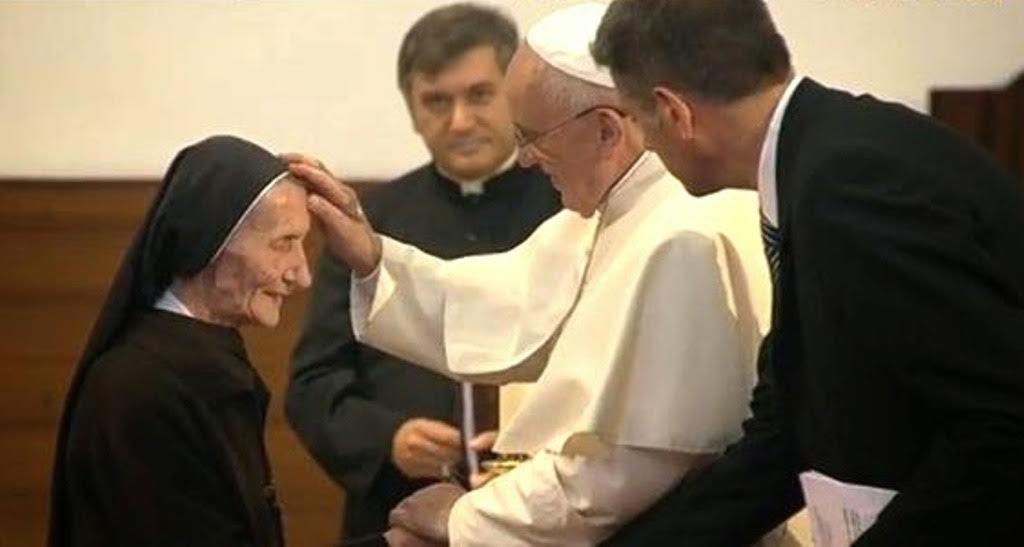 Maria is an 88 year old nun, who despite her age, managed to defy four decades of communist regime by daring to practice religious rituals, although the Constitution forbid them.
Maria Kaleta seems to be one of the few living testimonies of the atheist persecution. When Maria met with Pope Francis in Tirana, she confessed the long suffering and the challenges that she had encountered for many years until 1991, when the right of creed was restored.
Maria's confession made Pope Francis weep during his historical visit to Tirana in September 2014.
In the recent days, the Pope gave sister Maria Kaleta the medal "High cross for the Church and Pope".
This medal was given by the secretary of the Apostolic Nuncio in Albania, monsignor Romanus Mbena, in a special ceremony in the catholic community of the parish of "Shen Nikolli Pistull".
"Pope Francis gives sister Maria Kaleta the medal of the 'High Cross for the Church and Pope', given to all of those who have been punished for their dedication, zeal, service and engagement to the church and God, entitling her at the same time to hold this medal in public", Mbena said.
Thus, Maria continues to preserve the simplicity of many years, since when she decided to dedicate herself to God at the age of ten, to continue her dedication throughout her life. "I have never deserved this medal", she said.
This medal was given for the first time by Pope Leon XIII on 17 July 1888 and today it is given to the seculars and the ordained for their service to the Church and Pope. /balkaneu.com/