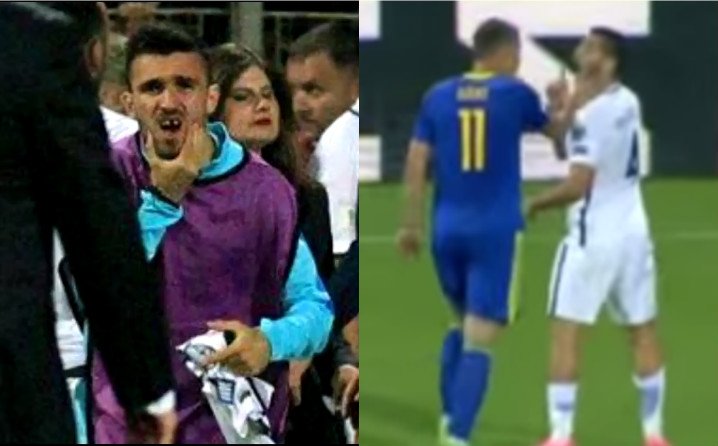 BiH and Greece national teams didn't show to much of football skills on the grass at Zenica stadium "Bilino polje", but, unfortunately, did show their skills in martial arts.
The result at the end was a goalless draw, but with the score 2-1 in injuries. What transpired after the game is far detached from football and sports.
The incidents begun even during the game and it was clear that the atmosphere was boiling between players, but also between fans of national teams at the grandstand. According to first reports, two BiH players ended up in the hospital, one of them, Senad Lulic, with a broken bone in the face. At the Greek side the biggest injury Giannis Giannotas was punched by BiH coach assistant Stephane Gilli, braking two of his teeth.
The videorecords published after the game show that, as it seems, the incidents were raised when two players of Roma, Edin Dzeko and Kostas Manolas had contact on the way to the locker rooms. They begun to fight and BiH coach, Mehmed Bazdarevic, stood between them to prevent a bigger incident, but other players joined the fight. At one point, as it is obvious on video record, Giannotas run toward the BiH players and was stopped by Gilli in a very violent manner.
At the same time, at the grandstand, groups of fans were fighting against police which tried to prevent the contact.
After game Bazdarevic said that Greece team played a dirty game and that they were aggressive.
"But we didn't have a good game and the in next matches BiH team must show more precision and patience. I think that we still have a chance to reach second place in the group", Bazdarevic said, adding that two BiH players are in the hospital.
After the game it was made clear that UEFA will have to review all events and that it won't be lenient with the sanctions, as UEFA delegate didn't spare words to represent BiH in a bad light in his report.
What is more clear is that football was the biggest loser in Zenica on Friday night./IBNA