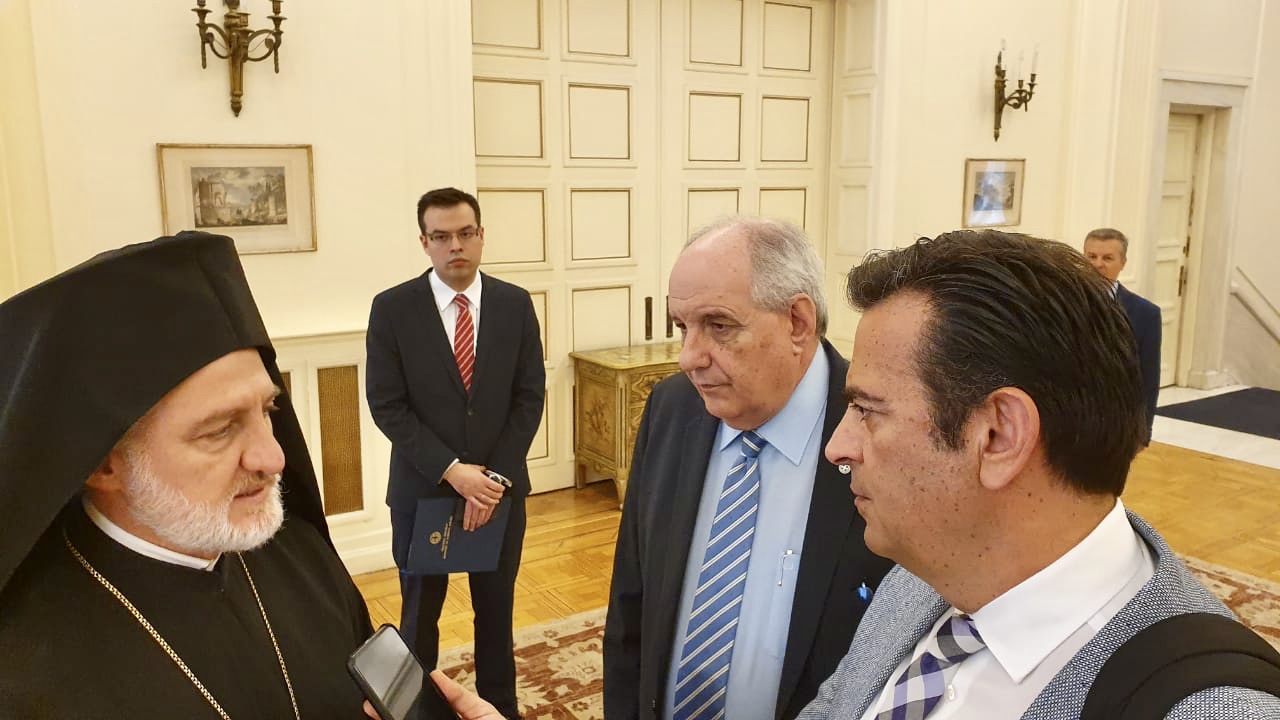 The new Archbishop of America, Elpidophoros, was received by the leadership of the Hellenic Ministry of Foreign Affairs on Friday, 31 May 2019. The Archbishop met with Foreign Minister Giorgos Katrougalos and Deputy Foreign Minister Terence Quick. At the end of the meeting, Mr. Ellpidophoros made a statement to journalists and answered two questions for IBNA.
"It is with great joy that I met with His Excellency the Minister of Foreign Affairs. Before travelling to New York to assume his duties, it is customary for every new Archbishop of America to go to Athens for deliberation with the political leadership and the leadership of the State, over national issues that concern the homeland and the Greek community in the diaspora in general.
I am pleased that my meeting with minister went very well. We've known each other for a long time, not only with the minister but with the deputy minister too. Terrence Quick and I are old friends. Therefore, I am now equipped and armed with the wishes of my Patriarch, the Ecumenical Patriarch Mr. Bartholomew, as well as those of the entire Nation, feeling safe to assume my new duties. I have invited the minister and deputy minister as well as all political party leaders with whom I met so far, to my enthronement on 22 June. I will be happy if they could overcome their obligations due to the busy political period the country is in, and join me on this great day, which is a great day not only for the Ecumenical Patriarchate and for our Greek community abroad, but also for the Nation in its entirety".
IBNA: Your post is very important in America as the largest Greek community is there. What will your first moves be?
My first moves will be in the direction of the most urgent issues and at the moment the most burning issue is the resumption of the rebuilding of the St. Nicholas church which is at New York's zero point and this point is the holiest point of the American Nation at this time and we should take the initiative to complete this church as soon as possible so that we are clear and honest towards the American society by building such an important church at such a holy location for the US.
IBNA: There was a problem with the Greek community in America, a division that existed. Are you ready to take an initiative to overcome these problems?
The Ecumenical Patriarchate has a tradition of trying to unite people. These divisions must cease and I am about to go to the United States as Archbishop of all Greeks and all people of Orthodox faith, with this being one of my priorities, to overcome the differences and unite the divided sides. We mustn't have divisions because when we do, we do not function properly as a minority, as a diaspora, as Hellenism and as Orthodox Christians./ibna