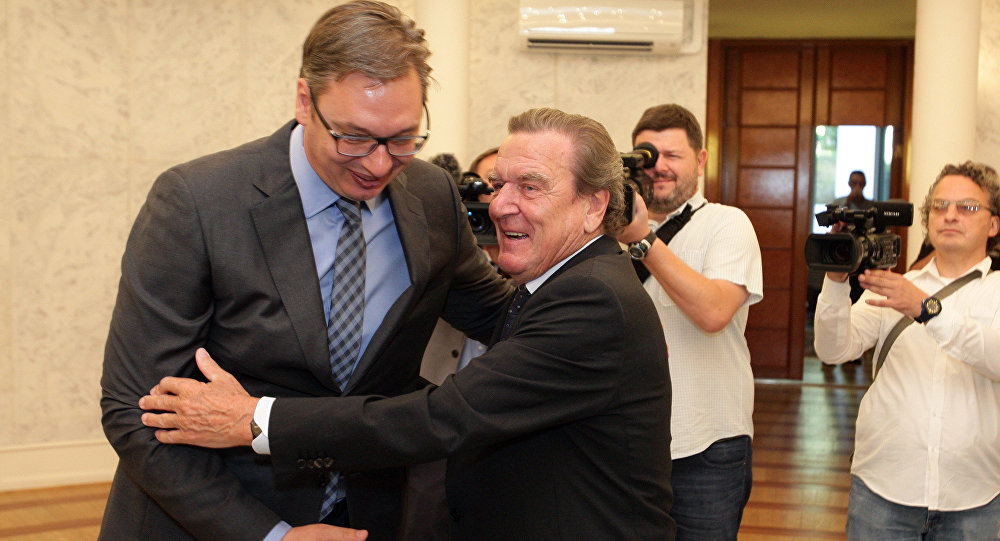 "We cannot forget, but we must forgive and create a successful economy", said president Aleksandar Vucic referring to 1999 NATO bombing of Serbia.
Vucic and Gerhard Schroeder, who was German chancellor at that time, spoke at the conference World Minds in Belgrade today. Schroeder said that the decision to bomb Serbia was "very emotional". NATO's intervention against Serbia was first military action after the end of the Second World War in which Germany took part.
"It would be easy to me to criticize Schroeder and say that this (bombing) was a bad decision", said Vucic, who was Serbian information minister during the war. "Many civilians, innocent people have lost their lives during NATO's bombings… We have to create an economically successful country. We all want to see progress", Vucic said.
With regard to the Kosovo issue, he said that "we are all lost in space and time". "Pristina cannot consolidate itself without Serbia; we will do our best to preserve peace and stability", Vucic underlined.
Schroeder, Vucic's staunch supporter who has visited Serbia many times since the country's current president came to power in 2012, has said that the decision on the bombing was "very emotional".
"The first decision that has been made was with regard to Iraq; we (Germany) had to decide whether we would take part or not. Another tough decision was that we had to participate in the intervention in Afghanistan. We had to decide about NATO's attack against Serbia, alongside our NATO partners. That was a very emotional decision, but after analyzing the whole situation in Kosovo we had to decide to take part in the bombing", Schroeder was quoted as saying.
NATO attacked Serbia in 1999; the invasion of Afghanistan was launched in 2001, while the invasion of Iraq came two years later.
When it comes to Serbian accession to the European Union, Schroeder suggested that the country could become a member even before the Kosovo issue is resolved. "Unfortunately, that will not happen", Vucic said.
"I believe that Serbia is on very good path", Schroeder concluded, praising economic reforms in the country./ibna