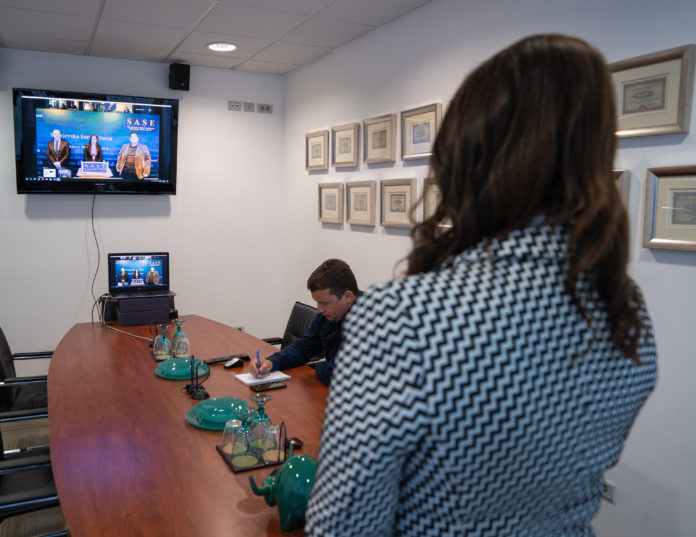 Representatives of the Montenegro Stock Exchange and the Sarajevo Stock Exchange signed an agreement on business and technical cooperation today, with the aim of developing and modernizing electronic platforms and services of the organizers of the Montenegrin capital market.
The signed agreement is, as it was announced at the joint online press conference, a continuation of the successful cooperation between the two stock exchanges from the previous period.
It was announced at the conference that the Sarajevo Stock Exchange will provide services for the maintenance and development of the electronic trading system and continue the development cycle through new projects and modernization of electronic platforms and services.
The director of the Montenegro Stock Exchange, Milena Vučinić, said that the goal of the cooperation was to create synergies, so that they would be ready for the time to come, ie for new models of work, which imposed changes in the financial sector on a global and local level.
"Cooperation primarily refers to the development of the IT and listing and quotation sectors. In this way, the Montenegro Stock Exchange will move towards meeting the standards of regional stock exchanges. We will get a modern system and services that will enable brokers to work in a comfortable way, and investors to easily access and have information, as well as not have to be tied to their offices and PCs, but we provide them with an easy and comfortable way or any kind of modernization," Vučinić explained.
The Montenegro Stock Exchange, as she said, is making the first but significant small steps and will apply the knowledge and experience that Sarajevo has today in order to quickly overcome some path of stagnation that was in the previous ten years.
The director of the Sarajevo Stock Exchange, Tarik Kurbegović, said that the initiative on that type of cooperation originated at the end of last year, and in the previous period, preparations were made so that the cooperation could begin in full capacity.
"The purpose of this cooperation is to improve the work of both the stock exchange and the capital market in every feasible plan, and to make both markets more attractive for all investors," said Kurbegović.
He announced that he would try to expand this cooperation to other joint projects, exchange of knowledge and experiences, harmonization of stock exchange processes and regulations, new platforms and services of stock exchanges, and thus facilitate the functioning of all capital market students.