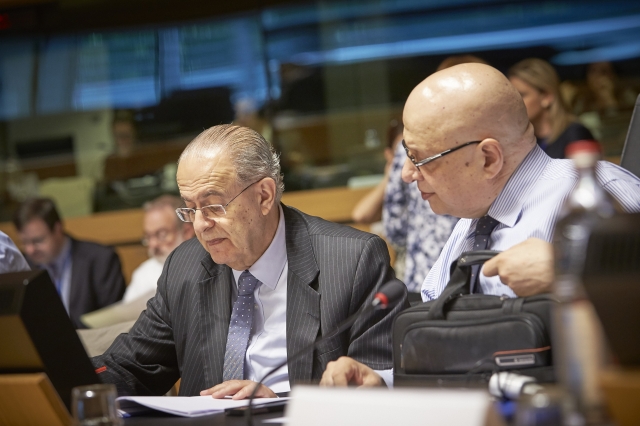 The Minister of Foreign Affairs, Mr Ioannis Kasoulides, participated, on 20 June 2017, in the deliberations of the EU General Affairs Council in Luxembourg, in which the main issue of discussion was the Conclusions text for the upcoming European Council, the agenda of which includes, inter alia, the issues of migration, security and defence, employment, development and competitiveness, the issue of Digital Europe, as well as the Paris Agreement on Climate Change.
As regard the migration issue, the Minister of Foreign Affairs expressed the view that all states should collectively participate in the efforts to practically implement the principle of solidarity, which cannot be voluntary and at will. The clear and equal burden sharing should be an integral part of the solution of the migration issue.
On the issue of defence and security, Foreign Minister Kasoulides welcomed the progress achieved for the implantation of the EU's Global Strategy, underlining that the level of ambition of the Strategy aims at making Europe acting autonomously in crises management and be in position to protect its citizens. Mr Kasoulides also highlighted the importance of the Convention of Nicosia of the Council of Europe for the protection of the cultural heritage.
The Minister of Foreign Affairs made special reference to the initiatives for the Single Digital Market, which will help particularly the member states of the region, as well as the Capital Markets Union, while he supported the references in the Conclusions of the European Council in relation to the free and legal international trade. He also praised the need to fully implement the Paris Agreement for the Climate Change, as well as its irrevocable and ecumenical character.
During a working lunch, the EU budget was discussed as this will be formed after Britain's exit from the Union. Minister Kasoulides highlighted that the new budget should take fully into consideration the needs of the European citizens, promoting clear goals. At the same time, it should be able to cope with the new challenges in key areas, such as the empowerment of the social dimension of Europe, sustainable development, attraction of investments, research and innovation, security and terrorism, migration, energy and climate change./IBNA
Photo: pio.gov.cy