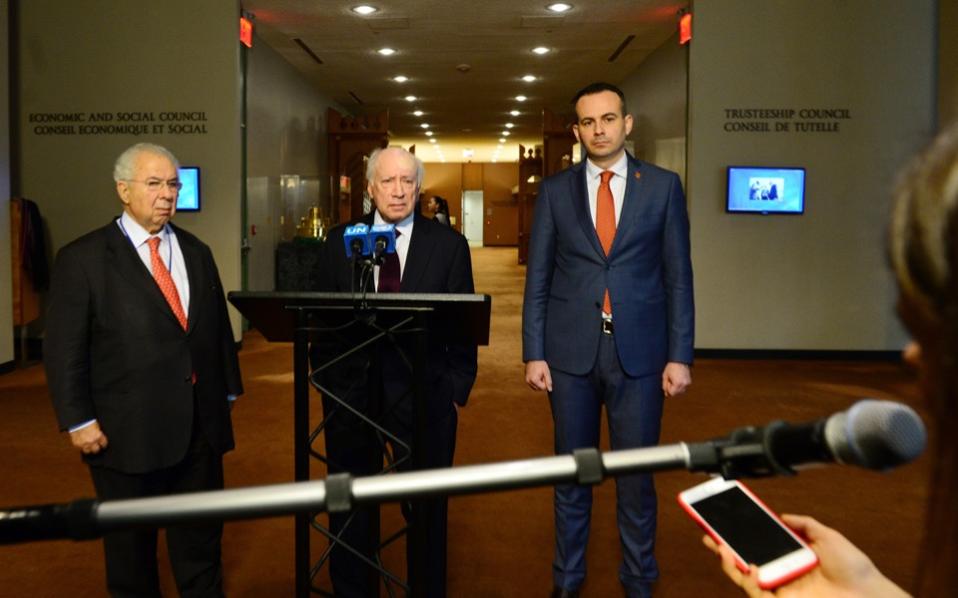 With the submission of a set of ideas "on the basis of what the two countries are discussing and an enabling framework", the meeting of UN Personal Envoy of the Secretary-General, Matthew Nimetz began with Ambassadors, Adamantios Vassilakis from Greece and Vasko Naumovski from the fYROMacedonian side, at the headquarters of the United Nations, in New York on the fYROMacedonian name issue.
Matthew Nimetz stressed in his statements after the meeting, that he considered his proposal "a good set of ideas for a tolerable compromise between both sides".
fYROMacedonian's negotiator Vasko Naumovski's statement, that the proposals put forward "are far from a decent solution", was untunable in relation to the optimism of Matthew Nimitz, to resolve the name issue.
Those who know how Zoran Zaev's government moves and behaves, did not find Vasko Naumovski's intervention surprising. After all, fYROMacedonian Foreign Minister Nikola Dimitrov's words in an interview with Balkan Insight, that "A solution is only possible if the identity of the country is not subverted" had been the forerunner of Naumovski's stance.
Zoran Zaev's government remains unstable and weak, with a majority of just one seat in the Skopje Parliament. On the other hand, fYROMacedonian President Gjorge Ivanov, who 'comes from' VMRO-DPMNE of former Prime Minister Nikola Gruevski, in his speech, refused to accept the law on the wider use of the Albanian language in the country, stressing that, "it is unconstitutional and dangerous for integrity of the country". Something that makes Zaev's political future uncertain.
The party of Zoran Zaev has is no different from VMRO-DPMNE, as regards to its national policy on the name issue; it is a Slavic party and has relied on similar rhetoric all the years that is present on the political scene. From the very beginning, people who are well aware of what was happening in fYROMacedonia, had expressed their doubts on the willingness of Zaev to beat a retreat.
Although the VMRO-DPMNE opposition had been considerably weathered during the local elections of last autumn, it remains strong. On the other hand, the Albanian element in the country, that makes nearly 30% of the state's population remains politically divided. This alone keeps the hopes of Zaev to remain in power high. However, if there is a large coalition of Albanian parties in fYROMacedonia, the current Prime Minister will be in a difficult position. However, this does not appear easy (to be achieved) although, President Ivanov's moves tend to reinforce this scenario because of his decision to turn down the law on the wide use of the Albanian language in the country, thus causing Albanians in fYROMacedonia to coil up…/IBNA