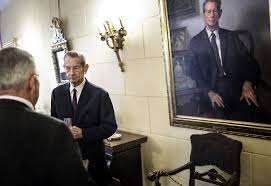 The Royal House announced that the last Romanian monarch, King Michai I, died on Tuesday, December 5, at the age of 96, at his Swiss private residence.
It was nearly a month ago when another announcement by the Royal House informed of the king's ill health whereas more than a year ago, in March 2016, they had announced his retirement from public life as he was suffering from cancer.
Due to his health issues, he was unable to attend his wife Queen Anne's funeral in 2016. In recent years, his daughter Princess Margareta represents him and the Royal House in all public events.
A Facebook post by the Romanian President Klaus Iohannis earlier today read: "Today, our nation is in mourning. A great statesman and a great Romanian left us. I have learned with deep pain and sadness the news about the death of His Majesty King Mihai I. The almost secular journey of the last sovereign of Romania ends here. Through all his deeds, King Mihai put his whole life in the service of Romania and served it with dignity and responsibility until his last moment on Earth. I am urging all of us to gather our strength and wisdom to properly honour Mihai I's merits. May God rest his soul!".
Romania's premier, Mihai Tudose, also through Facebook said that, "The Romanian people bids farewell with deep sorrow to King Mihai, a model of morality and dignity for Romanians, a personality that has left a significant imprint on Romania's history. We'll always feel his passage, so much the more next year, when we celebrate the Centennial of the Greater Union of 1918, a moment with a special significance for our nation. The memory of His Majesty will always stay alive. Condolences to the Royal House of Romania, we are with you and we assure you of our entire support. May God rest him in peace!".
AGERPRES reports that according to governmental sources a three-day mourning will be established in the country, which will be approved by the country's leadership at its Wednesday, December 6 meeting…/IBNA