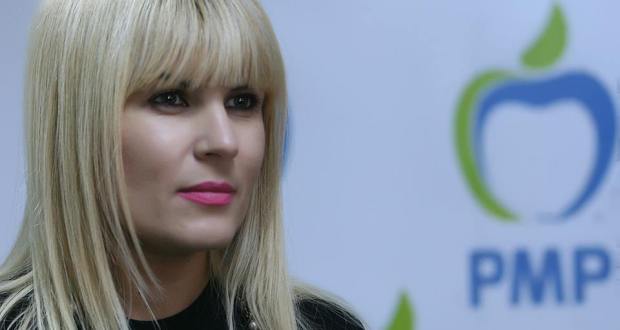 Bucharest, February 11, 2015/ Independent Balkan News Agency
By Daniel Stroe
Elena Udrea, arguably the most famous woman in the Romanian politics, was last night detained for 24 hours and taken into police arrest following a two weeks' saga which culminated Monday evening with the lawmakers giving the prosecutors green light for her arrest.
Udrea left the headquarters of the National Anti-Corruption Department (DNA) wearing handcuffs, after a 10 hours marathon hearing. "Did you expect anything else? You can handcuff Elena Udrea, but cannot handcuff the truth" she told the myriad of journalists waiting for her outside. When she got off the car at the Bucharest police arrest, she was not wearing handcuffs anymore, prompting the DNA investigators to review the procedures.
She had been under judiciary control for about two weeks and is today going to appear before a judge at the High Court of Justice who will rule whether she will be arrested for 30 days. Her lawyer explained she had been detained on two counts of peddling of influence and one of money laundry.
Udrea is being investigated in two major files – the Microsoft and the Gala Bute cases. Udrea is charged with taking a 500,000 Euro bribe from a former Romanian tennis player, Dinu Pescariu, who is investigated in the large Microfost file, where numerous other big names of the Romanian politics are also cited, in return for her alleged intervention to relieve the latter of his judiciary problems. She denies having taking bribe or having resorted to peddling of influence and blames the home intelligence service SRI of setting her up. But DNA prosecutors say that Pescariu has admitted and filed a written denunciation against Udrea.
New details emerge about Udrea and her former husband, businessman Dorin Cocos, in another file connected to the Microsoft case, related to the electronic platform E-Romania which is a program of the Romanian Government which eyes digitalizing and inter-connecting all the country's public services. The two are accused they asked for a 3 million Euros bribe in order to facilitate state payments to all the companies involved in this digital project for which the Romanian Government paid 12 million Euros.
In the other file, related to Gala Bute (an international boxing gala held in Bucharest in July 2011 and which was centered on Lucian Bute, a former Romanian middleweight champion), Udrea is accused of fraudulent use of state funds while she held the position of Regional Development minister. Several people, including Rudel Obreja, former head of the Romanian Boxing Federation, have been placed under arrest in the same file.
She is just one of the tens of central and local politicians under criminal investigation for corruption in a country where, until a few years ago, they were widely seen as untouchable. The new anti-graft wave comes as Romania endeavors to convince Western allies it has taken great steps in fighting corruption to remove suspicions which stand in the way of efforts to join the Schengen area, the final stage to complete a sluggish European integration for the former communist country.