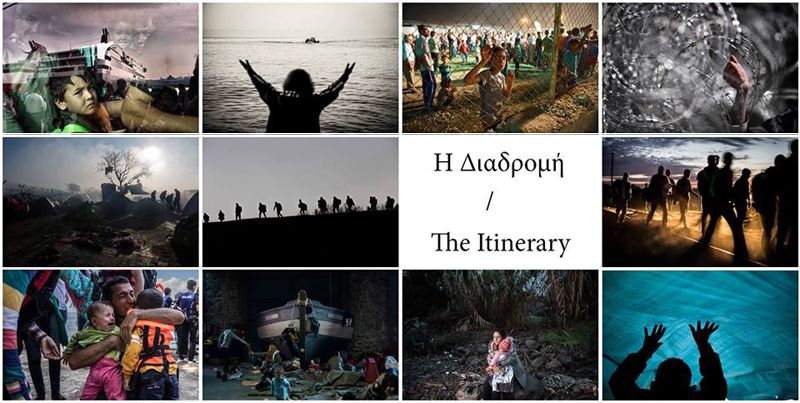 Athens, May 9, 2016/Independent Balkan News Agency
By Spiros Sideris
With great success was completed the group exhibition hosted at Technopolis, in the area of Gazi of the Municipality of Athens, organized by the Asylum Service with the sponsorship of the NGO «Solidarity Now».
The refugee path from the countries – starting points, such as Iraq, Syria and Sub-Saharan Africa, to Greece and other countries of the Western Balkans, but also the struggle of refugees for a better future, are the subject of the group photo exhibition of the Asylum Service entitled "The Path". Eleven photojournalist join glances and show viewers some of the most exciting highlights of the refugee drama.
Eleven photographers submit their own perspective on the refugee drama, as was recorded through their lens. The photojournalists who took part in the exhibition are Milos Bicanski, Andrea Bonetti, Dimitris Bouras, Luiza Gouliamaki, Yannis Kolesidis, John Liakos, Menelaos Myrillas, Nick Paleologos, Anna Pantelia, Fotis Plegas G. and Orestis Seferoglou.
IBNA attended the exhibition and spoke with photographers exhibitors:
Anna Pantelia
The 24 year-old photographer, spoke of her experience photographing the refugee drama. "You 'get into their shoes', you think that it might be you, your own people and you feel sad. You can not stay unaffected". "You think that young people have a future ahead of them for a new life, but this is more difficult for older people and there is the drama", Anna Pantelia continues. "I know how it is to miss your homeland, to leave and leave behind you your life and not expecting anything in the future. And there you will be treated like a nothing, they'll put you in a ghetto".
Andrea Bonetti
The Swiss photographer who lives permanently in Greece, came in a very difficult position when he first saw refugees. "I can not photograph people who suffer. You're lucky, you come take pictures and leave. I would not like to be in that position, to be photographed. What am I, a strange object? But on the other hand I am trying through photography to prove that something is going on here, very important, very big, which must be made public. But it is difficult. On the first day I broke into tears. I could not stand it. I witnessed in November, it was very cold, people through the soaked boats, others half drowned, hurting, feinting. A situation with too much emotion; you can not just stay apathetic and observe them", Andrea Bonetti said.
Menelaos Myrillas
Greek photographer Menelaos Myrillas, can not be see this kind of photography as a job. "These issues are beyond you. Maybe at times you don't get involved because it is a difficult issue emotionally to manage. But most of the time you act like a Man rather than a photographer", he says, to add: "the image has great power as a medium because it is fast to read. But has the disadvantage that the overexposure of an issue no longer drawing the interest, which is what photography is all about".
"I like the photograph that can give you different readings of a theme. It has a freedom of expression and is easy to read", the Greek photographer concludes.
Milos Bicanski
Serbian photographer, refugee himself after the war in Yugoslavia, he found refuge in Greece. "I was close to refugees because I was a sort of refugee. I left my country and came to Greece after the war in Yugoslavia. I know what war means, I experienced the war. I understand them, what they left, why they left it behind, what is happening in their home countries. I can not say that I know the path they follow and the difficulties, because I came directly to Greece and did not go through what they are going through. I came straight to Greece and was accepted immediately. I can only imagine what they are going through", Milos Bicanski says.
"If you want to take a good photograph you must have a connection with the object. You can not take photos and then leave. You can do this as well, but it does not give you good results. You must understand what is happening what is going on. You can not be away from the object. There is a reason you are taking photos", the Serbian photographer concludes.