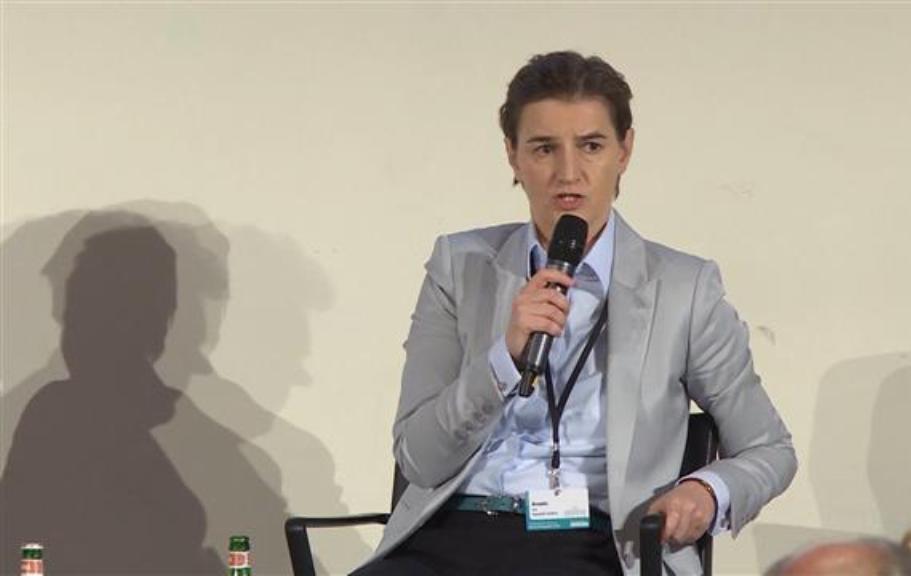 Prime Minister of Serbia, Ana Brnabic said today in Berlin that the issue of Kosovo can be solved through compromise, but she added that Serbia will not recognize Kosovo as an independent state.
For the head of the Serb government, compromise is stuck between two viewpoints. One of the viewpoints is that "Kosovo belongs to Serbia" and  the other is that "Kosovo is independent and that Serbia will accept it".
Ana Brnabic delivered a speech in Berlin while attending the European forum "Serbia in the EU" hosted by the Konrad Adenauer Foundation.
She said that she's against a compromise; however she explained that this is not about accepting Kosovo's independence, because, as she said, Serbia will continue to consider Kosovo as a part of it.
"Compromise is something reached between two sides. But, if someone insists that Kosovo is independent and that Serbia should accept this, then this will not happen, because Belgrade will continue to insist that Kosovo belongs to Serbia", Brnabic said.
The Prime Minister said that the frozen conflict is not the best solution because it only leads to regress and not progress.
Brnabic considered the issue of Kosovo as the opening of the "Pandora Box".
"The Pandora Box was opened 10 years ago when Kosovo declared its independence without taking into account any democratic principles. We are trying to address this issue, but it's not easy. I don't know whether it will be possible. I would like us to reach compromise and to move forward toward the future together", she said.
According to the Serb PM, Kosovo's case is not the same as the case of Croatia, Bosnia and Herzegovina, Slovenia or FYROM, because they were recognized republics as part of the Former Yugoslavia Federation, while Kosovo, according to her, has always been an integral part of Serbia.
During the time of the Former Yugoslav Federation, Kosovo was an autonomous province like Vojvodina. /ibna/