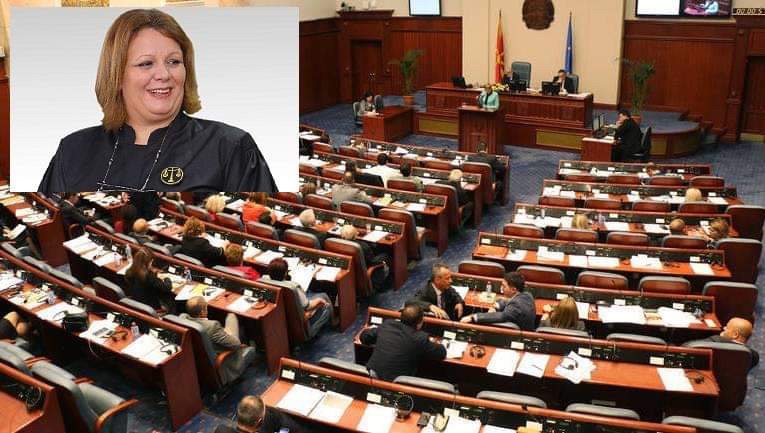 Katica Janeva, the prosecutor from the provincial town of Gevgelija landed in Skopje four years ago and was considered the "iron woman" who would restore hope for justice. In September 2015 she was selected to be chief prosecutor of the Special Public Prosecutor's Office, an institution set up to investigate illegal wiretaps that were then published by Zoran Zaev as opposition leader.
Four years later she is in the Suto Orizari prison, and over the weekend the Assembly of North Macedonia fired her, as her four-year term expired. According to investigations, there are suspicions that she abused her office in the case of a scandal codenamed "Escaping". Businessman Orce Kamev had paid 1.5m euros to close investigations into an investigative file against him opened by the Special Prosecutor's Office. Kamcev had given the money to two men, Bojan Jovanovski and Zoran Milevski, who, using proximity to Katica Janeva, had promised relief and closure of the investigative file. Janeva, according to some audio recordings, was heard talking to the suspect, but also the two suspects Jovanovski and Milevski, who are already in custody.
This was bad news for the citizens of North Macedonia, as their memory had vowed to work honestly and professionally, as well as restore hope for justice.
The Special Public Prosecutor's Office was one of the institutions most trusted by the public, as it was seen as the only institution that would restore justice by investigating dozens of cases of abuse of power stemming from mass surveillance. The Social Democratic Union (SDSM) had pointed its finger at the VMRO-DPMNE, accusing it of all abuses.
Janeva also enjoyed strong international support, with direct statements from various ambassadors. Now the Special Public Prosecutor's Office is facing the possibility of being shut down. All investigative files have been forwarded to the Public Prosecutor General's Office, and this week will determine the fate of other special prosecutors and staff employed by the Special Prosecutor's Office./ibna