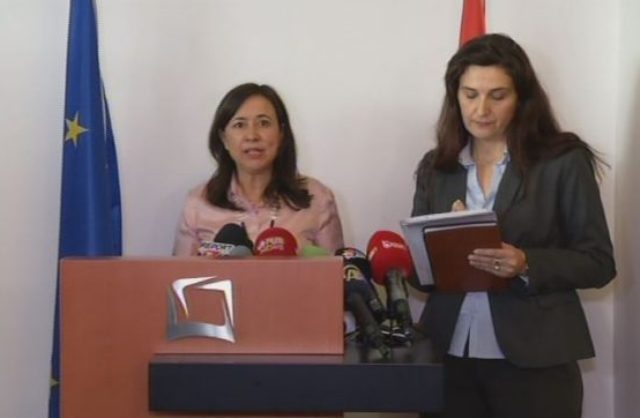 The EU ambassador said that the role of the mission is monitoring and not decision making
 A group of prosecutors and judges from the EU and USA arrived in Tirana and announced today that they will start the process of vetting their Albanian counterparts.
The scope of the mission is to make a reevaluation of judges and prosecutors with the aim of improving their professional level, fight corruption and the impact of organized crime and the impact of politics and other unlawful elements in delivering justice.
The troop of international experts of the reform in justice is led by the EU ambassador, Genoveva Ruiz Calavera. The Spanish ambassador also holds the post of the head of Western Balkan at the European Commision.
She announced today that she would lead the European and American judges and prosecutors, who will thoroughly monitor Albanian justice system.
Mrs. Calavera appeared in front of the media after chairing the first meeting of the Managing Board of Experts, a structure that will monitor the process of the creation of new constitutional vetting institutions.
If all things go well, this proces is expected to be finalized at the end of April 2017.
The monitoring of the wealth of judges and prosecutors will be the most difficult part of the international mission, which will conduct its mission amid the 18 June general election climate.
The chief expert of the International Monitoring Opinion (IMO) assured the media that she will work objectively, professionally and in line with the Constitution of Albania. For the first time, the Albanian Constitution now provides for the involvement of foreigners in Albania's affairs.
The vetting process is considered vital for EU accession.
But how will the Vetting process be monitored?
Calavera says that IMO will draft along with the Albanian Ombudsman a set of recommendations for the selection of candidates who have applied for the Vetting posts and it will be the responsibility of Albanians to appoint the candidates.
"Once the Vetting structure is established as the first phase of the process, there will be the second phase, whereby the EU and USA will bring a long term team of international observers and high level specialists who will monitor the Vetting process", Calavera said.
The entire process of international monitoring will be financially supported by the EU.
International monitors will examine the lists of the Ombudsman and will submit it to Parliamant the names that are ruled out until 1 March. /balkaneu.com/