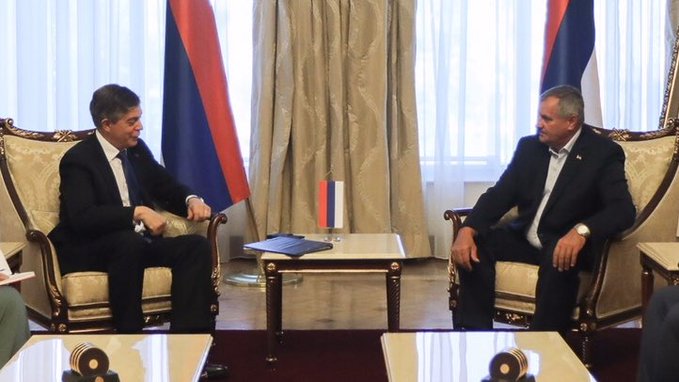 Head of the EU Delegation to BiH Lars Gunnar Wigemark and Republika Srpska Prime Minister Radovan Višković agreed on Wednesday in Banja Luka that forming the Council of Ministers and authorities in the Federation of BiH /FBiH/ as soon as possible is necessary, as this is a precondition for further BiH's movement forward on a European path.
Višković stressed that the failure to form authorities at the level of BiH and the FBiH, eleven months after the elections, makes it impossible to address many life and economic issues, the Government of Srpska Public Relations Bureau announced.
"Citizens expect the elected representatives of the authorities to resolve these problems", Višković said.
Meanwhile, the Head of the OSCE Mission in BiH Bruce Berton said he believes that the issue of Bosnia's NATO membership is being used in order to postpone the formation of the government.
"Not forming authorities in BiH represents an obstacle for all reforms necessary for the country to implement in its Euro-Atlantic integration process", he argued.
The three members of the BiH Presidency fail to agree about the Annual National Plan, the precondition for the country to open Membership Action Plan (MAP) with NATO. However, at the same time they failed to appoint a new Chairman of the Council of Ministers, the institution which is a kind of state Government.
While the Croat and Bosniak Presidency members, Željko Komšić and Šefik Džaferović, want the country to move forward with this process, the Serb member, Milorad Dodik, vehemently opposes it. The new Chairman of the Council of Ministers is supposed to come from Dodik's party, and the other two Presidency members refuse to vote for his appointment, as the ANP has not been sent.
Berton said that the OSCE asks of the BiH Presidency members "to reach a compromise in these issues to achieve progress".
"The OSCE does not have a stance on whether BiH should become a NATO member or not", he stressed, adding that this decision lies with the country's citizens./ibna