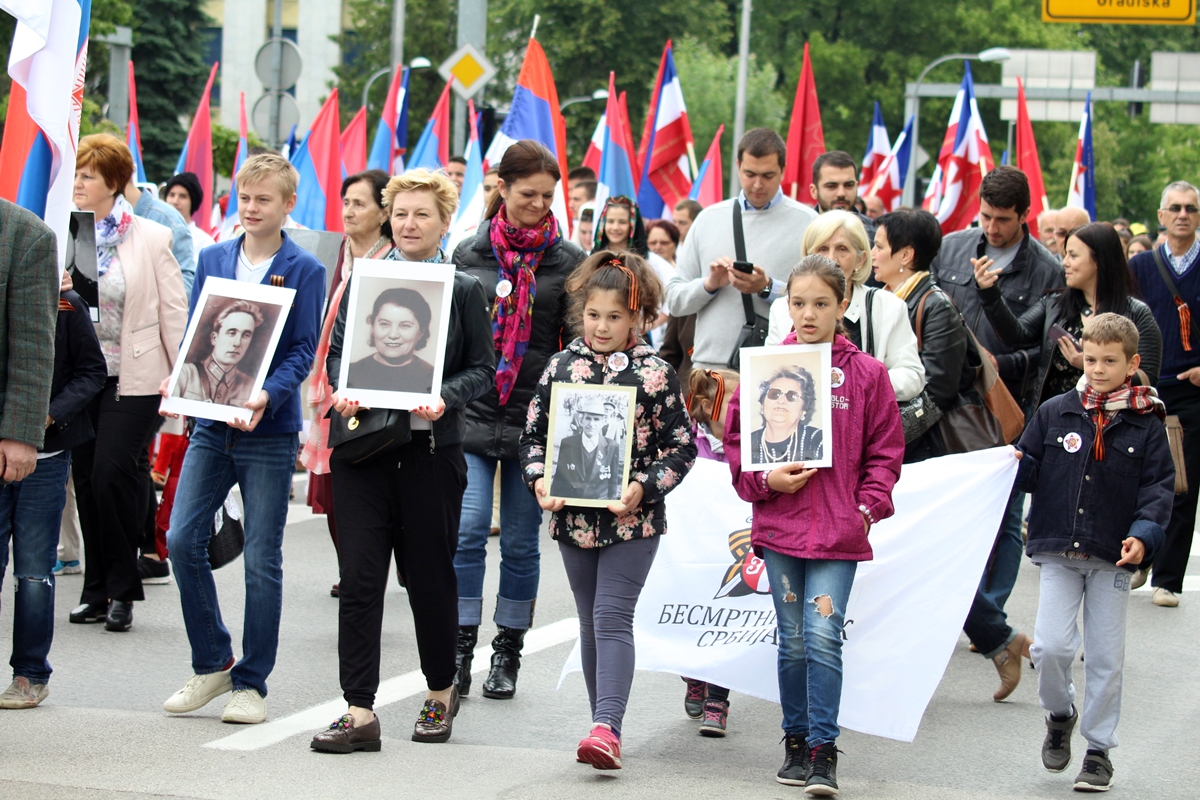 For the first time since the WWII Banja Luka joined more than 500 cities in the world which mark the Victory Day, May 9, with "The Immortal regiment" march.
This idea is a worldwide accepted manifestation that was first held several times in a lot of Russian cities and allows the new generations to pay tribute to family members who died in battles during WWII. In Moscow, several thousands citizens marched holding photos of their relatives, war victims. In similar manner, a march was held this year in Banja Luka, but just about thousand citizens participated on the manifestation. The march was also attended by participants of the WWII who, with their medals on chests, walked along with the younger generations.
Socialist Party president, Petar Djokic, said to media that freedom has no price, and that a sacrifice for her is always worth it.
"We must be aware that progress and life are possible only in the peace. All of us should strive for the preservation of peace, and we must give our contributions that the peace lasts forever in this region", Djokic said.
He added that nations of the former Yugoslavia gave a great contribution to the battle against fascism. Djokic recalled that more than 1,5 million citizens of former Yugoslavia were killed in the WWII in battles or as civilian victims.
"Now, freedom is secured in this region and it the eternal intention of Serbian people in its long history", Djokic said.
Citizens gathered in front of the monument dedicated to WWII victims paid tribute to partizans and other victims, but this year RS President, Milorad Dodik, and RS PM, Zeljka Cvijanovic, were in Belgrade, but not in their city and entity.
It is interesting that antifascists in Sarajevo held the walk but they didn't want to name it "The Immortal Regiment March". Without the pictures of WWII victims, several hundreds of citizens walked from Bascarsija through the city, to the monument dedicated to children killed during war in BiH on the end of last century. Since official Sarajevo blames Serbs for more than 1 600 children killed during that war, some analysts in RS think that the selection of the place of manifestation was a clear message that Serbs during that war were – fascists.
From this monument, members of left wing parties and anti fascist societies continued the walk to the Josip Broz Tito monument in University Campus. BiH Socialist Democratic Party president, Nermin Niksic, told that on the basis of the anti-fascist struggle and victory in World War II, Bosnia and Herzegovina, was rebuilt and survived .
"Those who don't understand and don't want to accept this fact, are not able to understand and accept modern Bosnia and Herzegovina. We, in this region, have the misfortune that we often have to fight against rigid forms of imperialism and nationalism, zealous through fascism and chauvinism.
The first time we were part of the worldwide Anti-Fascist coalition that defeated Hitler and his allies. Tito at the time was not only the leader of the National Liberation struggle, partisans and Yugoslavia, but was one of the world leaders. The second time, BiH and its citizens were left to themselves to defend their homes against fascist evil. We succeeded with great sacrifices", Niksic said.
It is interesting that on the manifestation in Banja Luka nobody mentioned the last war on the Balkan and the dissolution of Yugoslavia and the Serbs killed by Croat and Bosniak military units, but politicians in Sarajevo and other cities in Federation BiH never miss the opportunity to once again blame Serbs for war crimes./IBNA
Photos: Mladen Dragojlovic