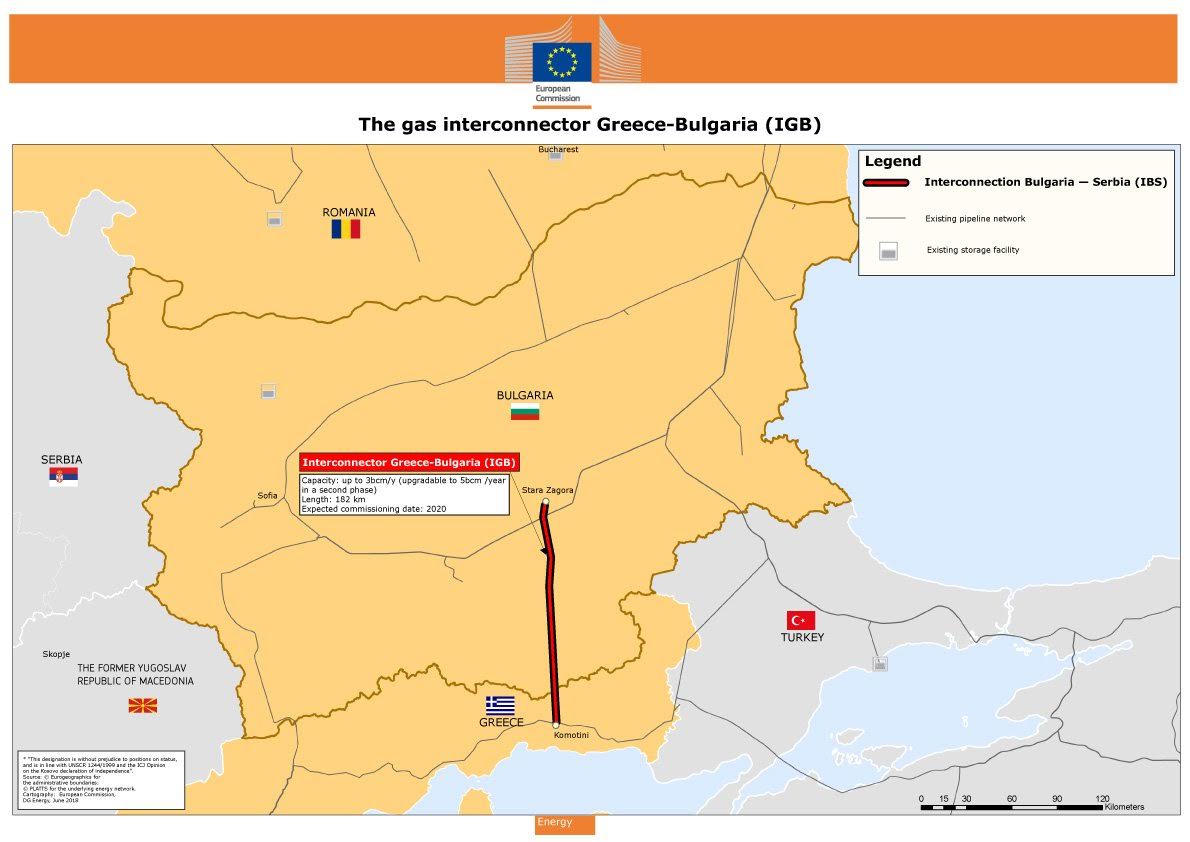 "The IGB pipeline is an integral part of our vision for a unified gas market in the Balkans", said Minister of Environment and Energy, George Stathakis, thus giving the green for the construction of the Greece-Bulgaria Interconnector.
At the fifth meeting of the High Level Group on Central and South Eastern Europe (CESEC) in Sofia, two important agreements were signed, in the presence of the Bulgarian Energy Minister, Temenuzka Petkova, EU Energy Commissioner Miguel Arias Cañete and Greek Environment and Energy Minister George Stathakis marking the launch of the project:
• TAP and IGB pipelines' consortiums have signed a co-operation agreement for the interconnection of the two gas pipelines
• Bulgarian Energy Holding and the European Investment Bank signed an agreement to finance the construction of the IGB
• Co-operation agreement between the IGB consortium and DESFA for the interconnection of the pipeline with the National Gas Transmission System of Greece.
In particular, preferential lending of the first one up to the amount of 110 million euros, guaranteed by the Bulgarian State, was secured to finance the project.
The IGB pipeline – as the Greek side pointed out – "is part of the Southern Corridor and through its interconnection with the TAP pipeline and the DESFA network will provide Southeast Europe with access to Caspian gas and other sources as well as liquefied natural gas LNG) through Greek terminals, such as the LNG station in Alexandroupolis".
Miguel Arias Cañete, EU Energy Commissioner, welcomed the launch of this project, noting that it is one of the EU's major projects of common interest in the energy sector, stressing that "the realisation of the IGB pipeline is an important step towards the integrated gas market, ensuring competitive prices through the operation of diversified sources and routes and security of supply in the SEE region".
"It is of particular importance for regional energy co-operation to build the necessary infrastructure and to improve the security of energy supply", Bulgaria's Energy Minister, Temenuzka Petkova, underlined, while noting that "the completion of the Greece- Bulgarian-Serbian interconnection, but also the already established one with Romania ensure the energy security in the region".
It is reminded that the procedure for commencing the construction of the Bulgaria – Romania – Hungary – Austria (BRUA) pipeline on Romanian territory is in progress. According to a DEPA announcement, "the project will be included as eligible beneficiary for co-financing by the European Structural Fund (ESIF) in Bulgaria under the Operational Programme for Innovation and Competitiveness".
"The IGB pipeline is the umbrella between the two countries, implementing the European strategy for cross-border connectivity and a tangible example of constructive co-operation between three companies and European countries", said Demetris Tzortzis, CEO of DEPA. We remind that the Energy Regulatory Authorities of Greece and Bulgaria adopted the regulatory regime for the operation of the project in May 2018…. / IBNA