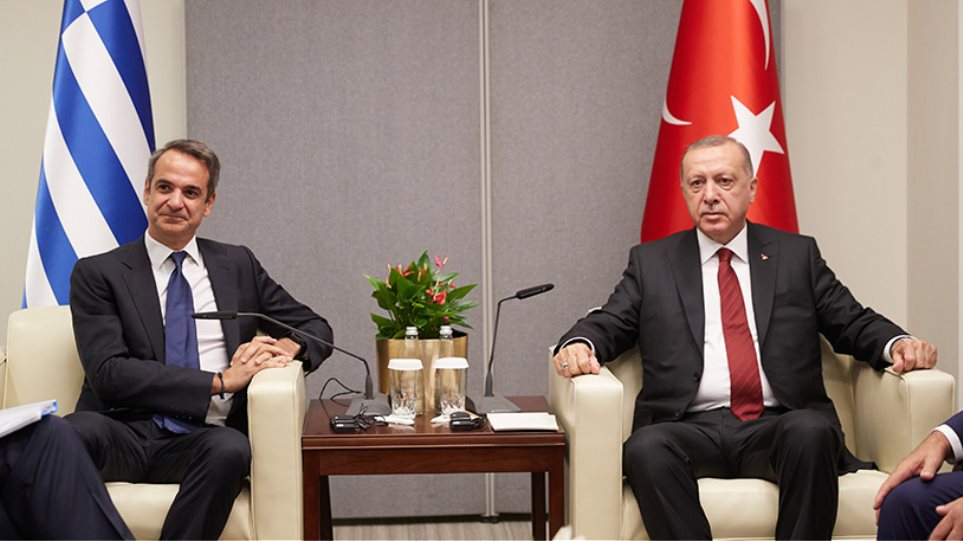 The Greek side expresses cautious optimism while awaiting tangible results after a meeting between Prime Minister Kyriakos Mitsotakis and Turkish President Recep Tayyip Erdogan.
The climate according to government sources "was positive and maybe better than what we were expecting". The Greek government expects results with regard to Turkey's attitude towards the Republic of Cyprus, implying Turkey's violations of the Cypriot EEZ, statements by Turkish officials and visits to Famagusta that hinder the discussions of the two communities. Overall, the Greek side expects mitigation of the provocations at sea and in Cyprus' EEZ.
The Greek government also wants progress on the refugee issue. The meeting discussed the recent increase in migration flows. Flows have reached 600-700 people per day.
The prime minister made it clear that the Greek side would like to see a reduction in flows to last year's levels, as he believes it is up to the Turkish side to achieve this by implementing the EU-Turkey joint declaration. Turkey can have more rigorous surveillance of these flows both inland and coast and sea. "We are committed to doing everything we can to control our own borders, with more Navy vessels deployed in the region and increasing returns".
Discussions also focused on the trade and economic relations of the two countries. The Turkish side is more convinced than the Greek one about the recovery of the Greek economy, a prime minister's aide said, adding that they are seeking to boost the Turkish economy through increased trade. In this context, the doubling of trade relations over the next 1-2 years was discussed. Greece will do its part in this area, including customs entry and exit facilitations.
The Turkish side raised the issue of the minority in Western Thrace and the operation of the two mosques in Athens and Thessaloniki, and the Greek side emphasized the reopening of Halki.
The Supreme Cooperation Council was also discussed, with the preparatory work falling on Dendias and Cavusoglu, to allow for further convergence. The Council will take place in Thessaloniki./ibna