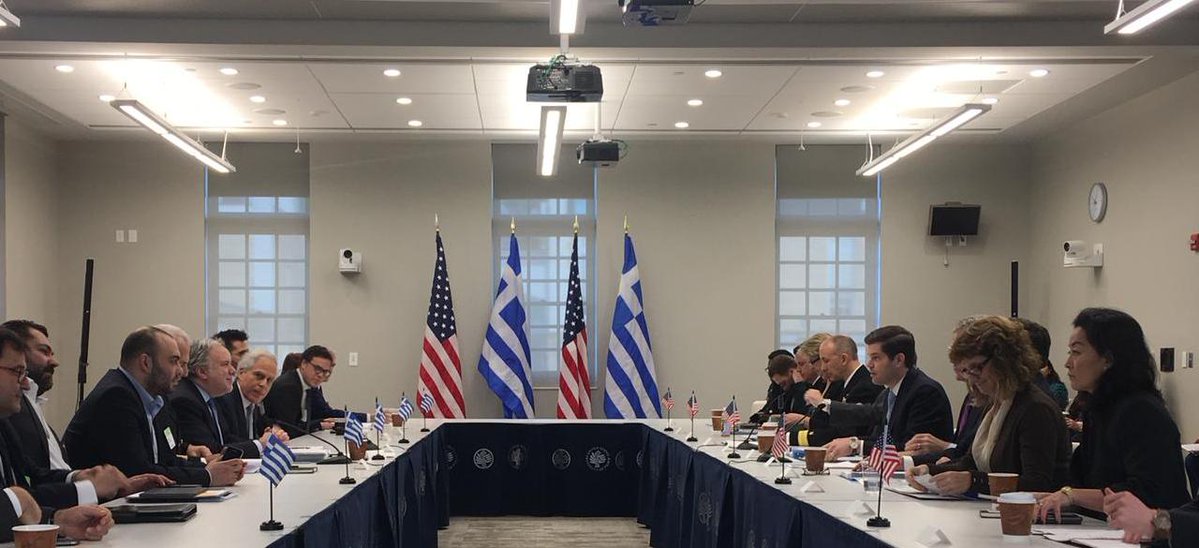 The first strategic dialogue between Greece and the United States began with very positive omens, according to diplomatic sources, at 10:00 local time in Washington.
The head of the Greek side is Deputy Foreign Minister Giorgos Katrougalos, while from the US side is US Assistant Secretary of State Wess Mitchell. The strategic dialogue will be completed in the afternoon at 16:00 local time with the meeting of the Greek Minister with US Secretary of State, Mike Pompeo.
The debate has been particularly fruitful, with regional and economic issues have been covered so far, as well as cooperation in the fields of defense and security.
The US side stressed that the two countries' strategic cooperation has been boosted in recent years and has marked 2018 as the best year in the modern history of Greek-American relations. He stressed that Greece plays a key role in the wider region of the Eastern Mediterranean and the Balkans, a region for which the US (and other major powers) have an increasing strategic interest.
For his part, the Greek Deputy Foreign Minister underlined the importance of Greece's equal strategic alliance with the US, within the framework of its active multidimensional foreign policy.
At the same time, he further developed Greece's initiatives to stabilize the region by analyzing the multiple challenges it faces. He also referred to the consolidation of Greece's role as an energy trading and transport hub in the region and marked the recent international exhibition of Thessaloniki, where the honored country was the USA, as a springboard for a new dynamic in our economic cooperation that we ought to use.
Furthermore, the debate was extended in more detail on issues of regional interest in the eastern Mediterranean, to security challenges and to the extremely important cooperation with Cyprus. The need for effective support of the US to international Law in the Aegean and the Eastern Mediterranean, as well as the just and viable solution of the Cyprus problem on the basis of UN decisions, was specifically discussed. As for the Balkans, the US side welcomed the Prespes Agreement as the most important diplomatic success of the region in recent decades.
Regarding the defense cooperation, Chief of the General Staff of the Hellenic Armed Forces, Admiral A. Apostolakis, has highlighted the prospects for further cooperation and the importance of the naval base of Souda.
The discussions will continue until the afternoon, followed by a bilateral meeting of Deputy Foreign Minister Giorgos Katrougalos with US Secretary of State Mike Pompeo./IBNA