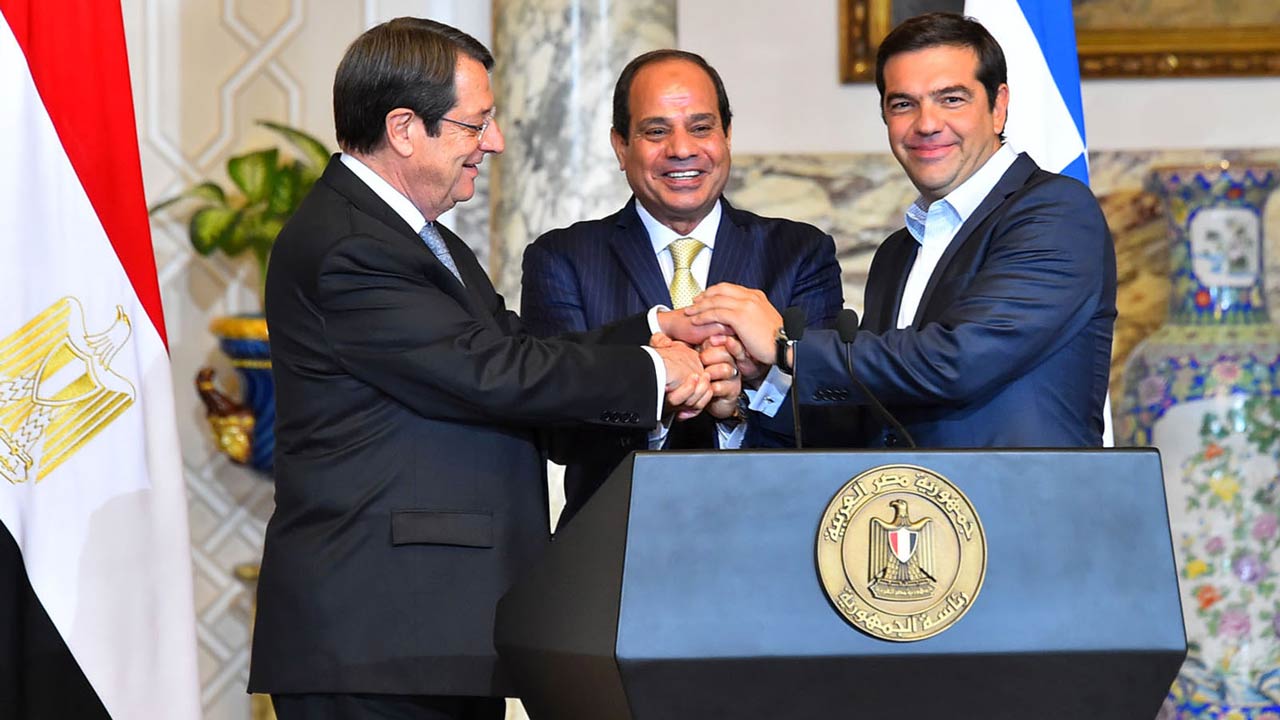 On Wednesday, October 10, Greek Prime Minister Alexis Tsipras will welcome in Elounda, Crete the President of the Republic of Cyprus, Nicos Anastasiades and the Egyptian head of state, Abdel Fattah el-Sisi for the 6th Tripartite Summit between Greece, Cyprus and Egypt.
In a particularly critical period for the Eastern Mediterranean region and the Middle East, the 6th Tripartite Summit highlights the role of the co-operation that Greece and Cyprus have set to safeguard security, stability and (a broader) co-operation scheme in a particularly unstable region.
The three leaders are expected to discuss regional developments, the Cyprus issue, energy issues, telecommunications as well as Greek, Cypriot and Egyptian Diaspora and ways of (further) co-operation.
The EastMed pipeline will be in focus, too, as Egypt has expressed interest in participating in the grand energy project, expanding co-operation with EU countries, promoting EU-Egypt relations, and discussing migration in depth.
The Greek PM will be accompanied by the Minister of Foreign Affairs, Nikos Kotzias, the Minister of Energy and Environment, George Stathakis, the Digital Policy, Telecommunications and Information minister, Nikos Pappas, the Deputy Foreign Minister responsible for Homeland Affairs, Terence Quick, the Deputy Minister of Economy and Development, Stathis Giannakidis and the Deputy Minister of Labour, in charge of Social Insurance, Tasos Petropoulos.
The President of the Republic of Cyprus will be accompanied by the Minister of Foreign Affairs, Nicos Christodoulides, Energy minister, George Lakkotrypis, the Government Spokesman, Prodromos Prodromou and the EU Commissioner for the Presidency, Fotis Fotiou.
According to the present planning, on the sidelines of the summit, the three countries will sign memoranda of co-operation. Based on how meetings have been planned, the trilateral summit will kick off with the bilateral get together of Alexis Tsipras and Nicos Anastasiades and then with the one of the Greek premier with the Egyptian President El-Sisi.
The above mentioned meetings will be followed by a private one of the three high officials, while later on there will be extended consultations of the three delegations. After the latter, there will be the signing of the agreements and that of the memoranda of co-operation.
Alexis Tsipras, Nicos Anastasiades and Abdel Fattah El-Sisi will make joint statements to accredited journalists who will cover the trilateral meeting…. / IBNA
Main Photo (File): Egypt's President Abdel Fattah al-Sisi (C) shakes hands with Cypriot President Nicos Anastasiades (L) and Greek Premier Alexis Tsipras at the presidential palace in Cairo, in 2016