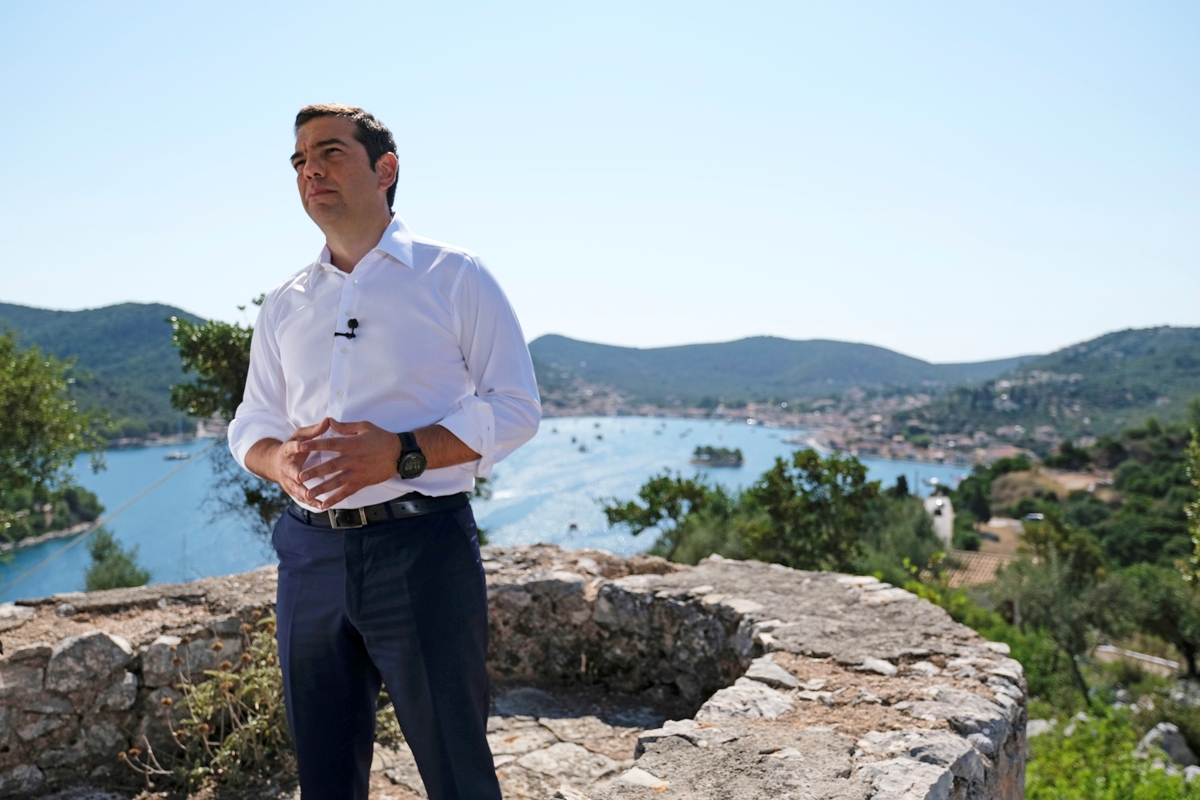 With a state address from the island of Ithaca, Greek Prime Minister Alexis Tsipras chose to communicate the exit from the memoranda time and launch the first pre-election period of the post-memoranda era for Greece.
By linking the island of Odysseus, who was punished for ten years by the Gods, with the poem of modern Greek poet Constantine Cavafy, Ithaca, Alexis Tsipras gave a symbolic character to the event on the occasion of the country's official exit from the memoranda.
The Greek PM went back to the post-war period, to the reasons why the country went bankrupt, and personified the responsibilities for the adventure that Greece underwent, he opened the pre-election period in the country, stating the narrative based on which SYRIZA will go to the polls.
What Alexis Tsipras chose to do on Tuesday, August 21 from Ithaca was to place his own bet. A bet more to himself than to the people who will be asked to approve or disapprove of his policy.
Alexis Tsipras, if he does not know it already, should understand that he personally was the choice of the voters because he inspired them. The choice of voters was never the idealistic SYRIZA. This should be understood by the members of SYRIZA, who for the three and half years of the SYRIZA-ANEL governance have not opened up to society, having remained trapped in the left marginalisation of chronic obsessions. It's been numerous times in the past that this behaviour has hindered the necessary changes that had to be made to end the evaluations and put an end to the memoranda sooner.
His bet is to be able to open up to society. Let himself free from party executives who have proven nothing at the government level; unfortunately for themselves, there are many and act as sinkers both on the premier and on Greece's "shoulders". Executives who repeat the same aging policies that have led the country to polarisation, corruption and finally to the memoranda.
The Greek Prime Minister is called upon to assume his responsibilities. He has managed not to become a "left bracket" on the political scene. He has made difficult decisions, he thread his way through difficulties and managed, even in a typical sense, to realise his commitment about exiting from the bailout-programme time.
Right now, what is asked of hime is to invite these forces of society that could participate in aiding Greece overcome its dark past.
The opposition has not convinced the public that it could attract the voters who are not aligned with a political party. There is plenty of time until the next election so many things can change. The question is one: the 'next' should find Greece away from party autism, divvying up favours and social division that are aimed at bringing together party voters, but at the same time stopping the country from turning into a modern state…. / IBNA
Main Photo: Alexis Tsipras addresses the Greeks from the island of Ithaca, Tuesday, August 21, 2018