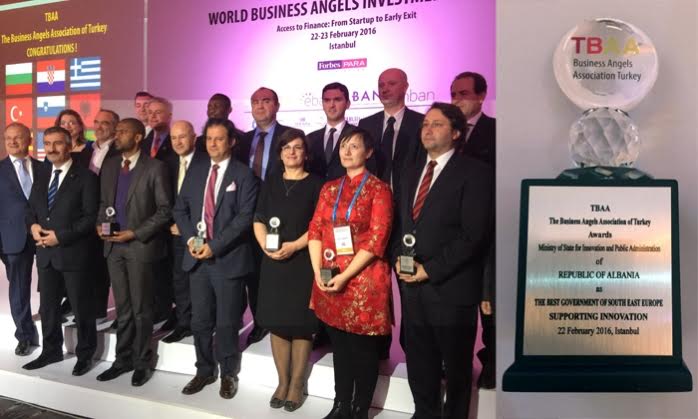 Tirana, 24 February 2016/Independent Balkan News Agency
The Albanian government has been considered in the World Forum of Innovative Investments as "The best government in Southeast Europe in support of Innovation". This award was given in the World Business Angels Investment Forum 2016 which was held in the past two days in Istanbul, Turkey. President in this activity was also the Albanian Minister of State For Innovation and Public Administration, Milena Harito.
World Business Angels Investment Forum 2016 joins together the public sector, the financial sector and corporations to coordinate investments and help startups to turn into profitable companies.
"Business Angels" is an intermediate category of business, organized in an international network. These are businesses which have passed the Startup stage, but who are not yet profitable and need support through investments by large companies and corporations.
The Albanian government has been valued for "its significant commitment in supporting new innovative ideas and guiding startups in order to help them turn into profitable businesses for their owners, but also for the economy of the country in general".
This year, the forum has been presented by the International Network of Innovative Entrepreneurs and has been organized by EBAN (European Network for Innovative Investments), MBAN (The MENA Network of Innovative Entrepreneurs), ABAN (African Network of Innovative Entrepreneurs) and TBAA (Association of Turkish Innovative Entrepreneurs).
The main scope of the forum was to facilitate the procedures of receiving funds for small and medium sized enterprises.
This event was addressed by presidents of association of entrepreneurs from more than 20 countries, while there have been over 50 sessions for individual presentations, panel discussions and workshops and trainings from EBAN institute.
Entrepreneurs from all around the world, public authorities, shareholders and representatives of financial institutions have discussed the improvement of the market and the necessary fiscal and regulatory changes.
While addressing the European Network of Entrepreneurs, minister Harito stressed the numerous creative opportunities of the technology sector, which in the ten years to come is expected to see a fast development, also considered the fourth industrial revolution./ibna/