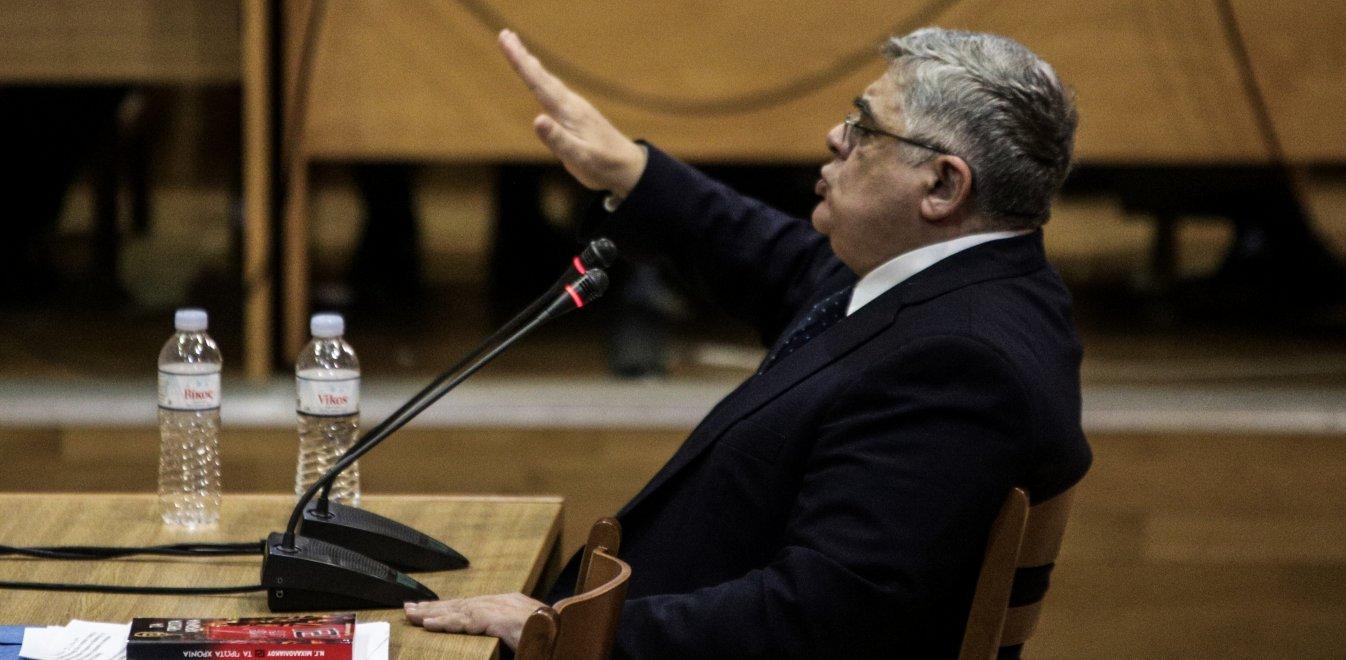 The completion of the long-awaited trial of the neo-Nazi organization "Golden Dawn" constitutes an historic moment for Greek justice and the wider political scene.
Today, the leader, the so called "Führer", Nikos Michaloliakos, who is the last to testify in court, was put on the stand. Because of his position, him being the leader since the 1980s, his testimony will end tomorrow and so will the trial, four and a half years since its inception.
The head of Golden Dawn, alongside former MPs and other executives of the party, face charges of criminal organization, a series of racist attacks on immigrants, refugees and political opponents, as well as homicides. The charges culminated in the cold-blooded assassination of antifascist artist Pavlos Fyssas in the Keratsini district in September 2013.
The perpetrator who was arrested on the spot, and who was a member of the most "hard-core" local organization, stabbed the victim in a "professional" manner and with all the evidence showing that it was an organized action of the so-called "Hit Squad".
It was a time when Golden Dawn's activity was intense, with a series of incidents included in the case file, as it enjoyed high electoral rates, close to 7%, after its first entry into parliament in 2012.
Michaloliakos, during his testimony, blamed the "mistakes" of other executives for a number of responsibilities that laid on him, supporting the legitimacy of his party by attempting to renounce his own responsibilities. He stated he knew nothing of the assassination of Fyssas, "I heard about it the next day on the news", "It was not me who gave the order", despite the documents and despite strict adherence to the "chief principle" that almost all the defendants claimed. It is worth noting that when he entered the courtroom, those on the defensive side stood at attention.
He also declared he is still a nationalist, though in a series of interventions and videos he supports the ideology of national socialism, "if I lived in Germany in 1935 I would be a member of the national socialist party and be happy about it", he had earlier argued in a party rally. He even claimed that he was a victim of a "collusion" and "political persecution".
The outcome of the trial is greatly anticipated, as this is the first time that the leader and former members of the political party have faced serious charges and penalties following the trials of the dictatorship instigators.
"The anti-fascist and anti-racist struggle of all of us does not stop in the courtrooms. More so today, when the refugee issue is used as an excuse by some people to cultivate right-wing reflexes, thus feeding the "serpent's egg", action on an every-day basis is a duty we all share, in order for Golden Dawn's ideas and practices to be forgotten for good", SYRIZA commented, putting in the spotlight radical xenophobic events against refugees and the attitude of New Democracy members. Specifically, a high-level New Democracy official and MP, indirectly endorsed the "event" organized by citizens outside a refugee camp in Thessaloniki which included pork barbecue and alcohol. /ibna