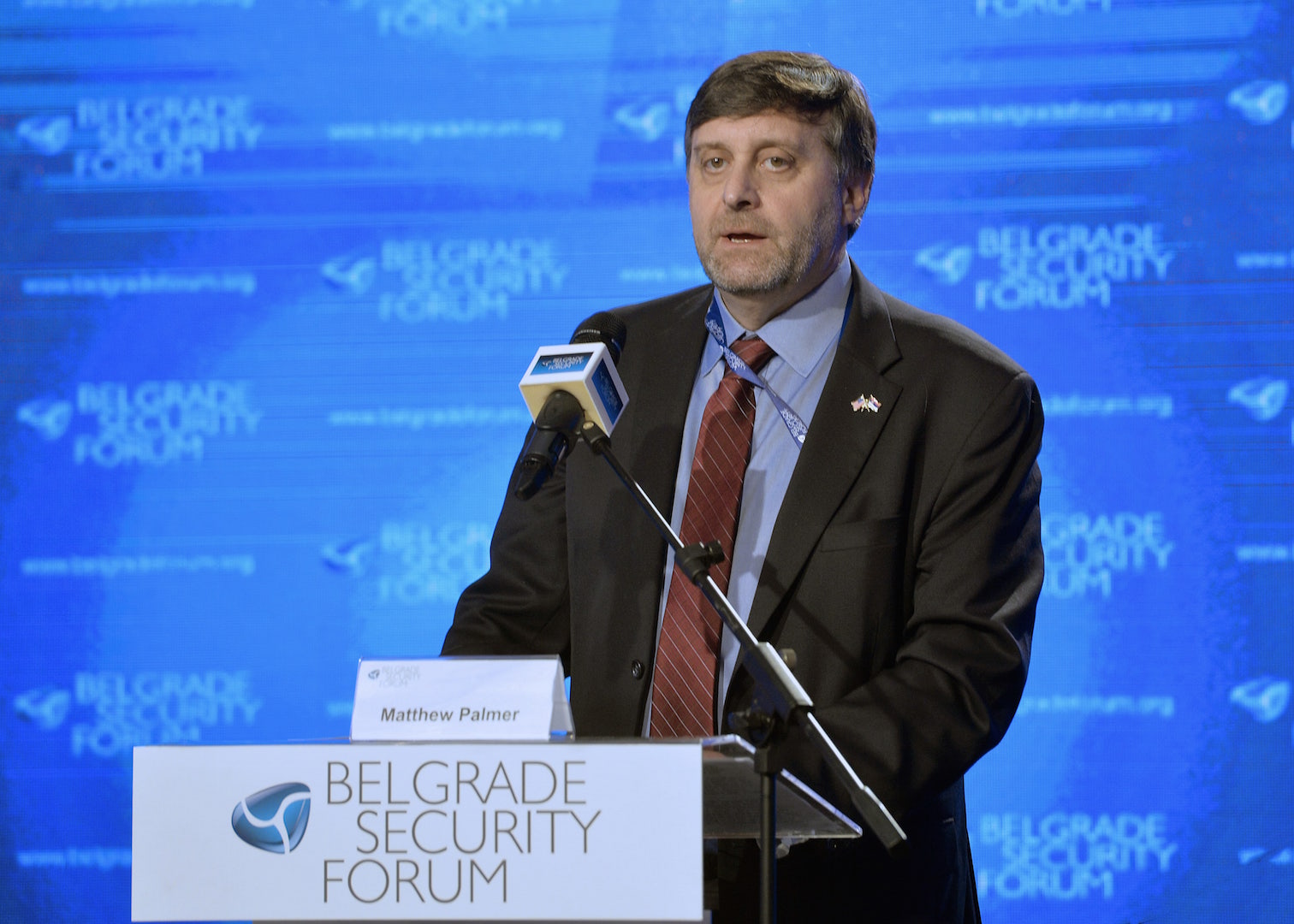 Washington appeals on both Belgrade and Pristina to use a "historic opportunity" and reach an agreement which would be a win-win solution, said Matthew Palmer, deputy assistant of the American secretary of state. Palmer spoke during the Belgrade Security Forum today. He has also met President Aleksandar Vucic.
"If somebody wins, and the other side loses, then nobody wins", Palmer said at the panel "Building on momentum in the Balkans".
The American official said that his country does not "push" towards any specific result of the dialogue between Belgrade and Pristina. "We do encourage both sides to find way forward as well as durable and sustainable solution", Palmer said.
The solution must be acceptable for the both sides, he went on. Washington is ready to "hear and assist", Palmer said, adding, however, that he cannot talk about details, especially on a possible swap of the territories.
Palmer explained that no plan of the territory swap has been presented so far. Although the United States do understand concerns that the territory swap could provoke a crisis in the other parts of the region, an unresolved dispute or "frozen conflict" could also "pose a risk for the regional stability", Palmer said.
He underlined that Serbia and Kosovo have a "European future" and that they both need assistance in that regard.
Palmer also referred to the former Yugoslav Republic of Macedonia and Bosnia and Herzegovina. If Skopje wants to join both European Union and NATO, then the Prespa Agreement has no alternative, he emphasised. Palmer appealed on political leaders in Skopje to overcome parties' divisions for the sake of a "European future".
Referring to Bosnia, Palmer said that the "biggest problem" of that country are its "corrupt politicians who use a nationalistic rhetoric to create divisions". He added that the United States are "committed" to Bosnia's territorial integrity.
The "United States want to help everybody. Stronger Western Balkans means a stronger Europe and a stronger Trans-Atlantic partnership", the American diplomat concluded…. / IBNA