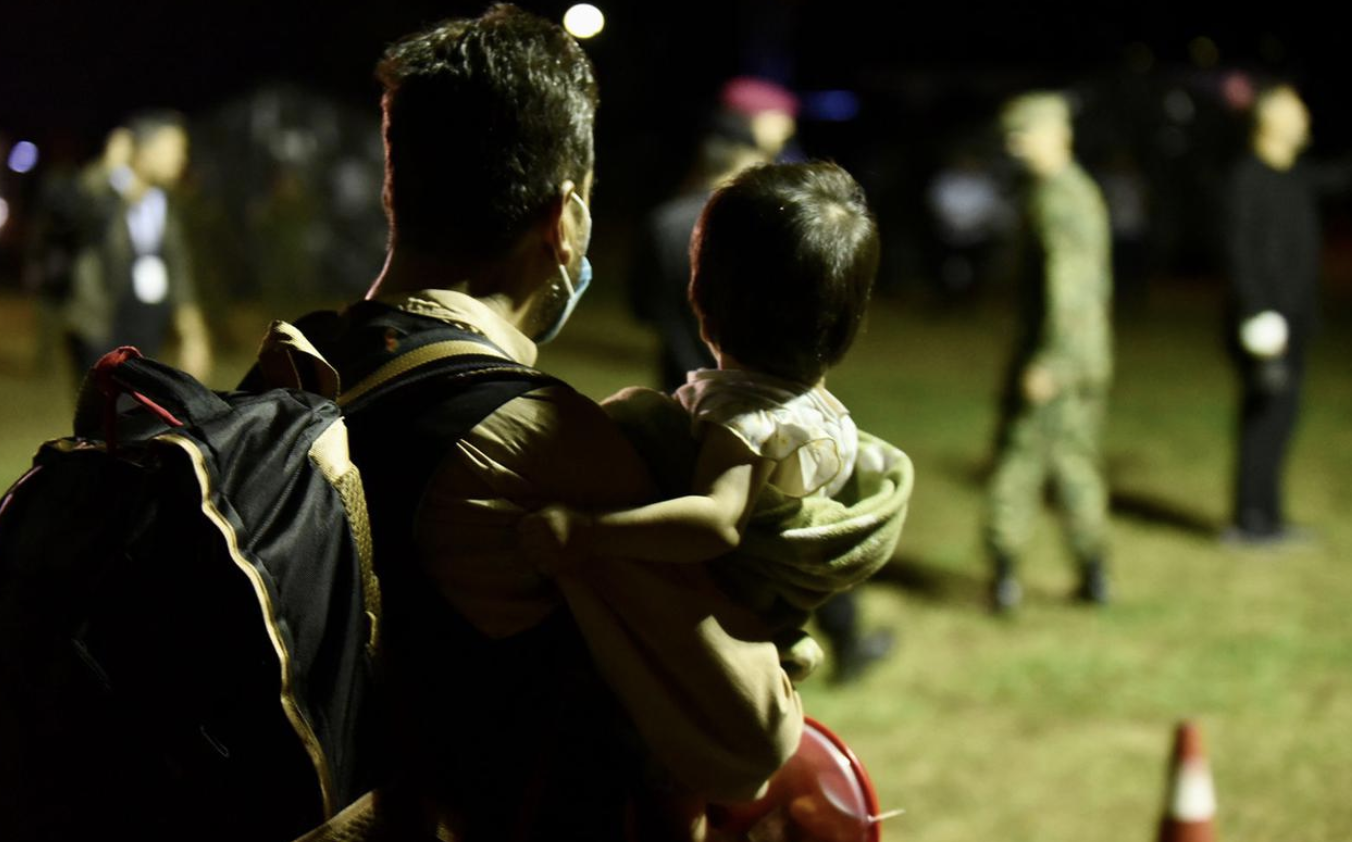 Xhaçka: Every Albanian citizen should feel really proud today
The first plane with 121 Afghan citizens arrived at Rinas Airport, including 11 babies, who were initially subjected to individual data processing.
Then they left for the hotel structures in Durrës. The Afghan citizens were received by the Minister for Europe and Foreign Affairs Olta Xhaçka, the US Ambassador Yuri Kim, leaders of the Armed Forces and the state police.
The first plane from Kabul arrived today at the military runway of Rinas Airport, at 3.20 am.
121 Afghan citizens were received at the temporary reception center, set up in the military zone thanks to the cooperation of the Armed Forces and the State Police. The temporary reception center was inspected by Minister Xhaçka, who praised the effective contribution of the Armed Forces, the state police, the border police and the doctors and nurses.
"It's really a very exciting moment. These have been very intense days, with a lot of work to coordinate a humanitarian operation in record time. "But above all, these have been very difficult days, with a lot of concern for the fate of the Afghan citizens that we are waiting for today because the security situation in Kabul has deteriorated a lot," Xhaçka said.
"Unfortunately, the horrific attacks that took place today, the tragic loss of life of over 60 civilians and the bodies of our American partners, was proof of what troubled us, that troubled all partners. "It was precisely the fear of such attacks that pushed us to do our best for these citizens to come to Albania as soon as possible, where they are far from danger and far from fear for life", she continued.
"Day after day, we had to face delays, new difficulties, new obstacles as a result of the security situation. That is why today I am so relieved that finally the first plane managed to land bringing here a first contingent of Afghans, men, women, children. It is truly an exciting moment because every man, every woman, every child you see here today, is a life saved from the horrors of war and a regime that sees them as enemies to be killed, to be persecuted.
I feel really proud today, and every Albanian citizen should feel really proud today, that once again, as we have done in many cases in our history, Albanians are showing what is the true spirit of this people, solidarity, hospitality, generosity.
And when you see such a show of solidarity, when you see how Albania, which is not a rich country, which is not a country with great material or logistical opportunities, realizes that it is not a coincidence that in Albania there were more Jews after than before the war, or that Albanians despite economic conditions only 2 years after the evil year 1997, managed to shelter half a million Kosovar brothers and sisters who were forced to flee their homes as a result of war and crimes of another terrorist regime and murderer ", said Xhaçka.
"But this is not just about the traditional hospitality and trust of Albanians, this is also about a moral obligation. Because these Afghans, educators, artists, intellectuals, civil society, human rights or women activists, were for 20 years our allies, NATO allies, believed in the vision of a modern Afghanistan and risked everything to work with us to make that vision a reality. "It was an obligation, therefore, not to abandon these allies at the mercy of the Taliban, but to do what we could to enable them to escape the danger that was looming in their country," she said.
Albania has agreed to house some 4,000 Afghans temporarily as their immigration applications to the United States are processed.
"We have done everything to welcome them and offer them the best and most dignified living conditions.
The group that came down today, which is the first group, will be accommodated in a hotel facility in Durrës. While we wait for the peak of the season to pass and the capacities of the hotel structures to be liberated for the rest, the other Afghans who will come in the following days will be sheltered for a few days in the dormitories of QS.
We have taken measures for everything, for the processing of documentation and registration, for the controls and health care, for the hygienic packages, for the food, the transport and of course the security.
And today, I want to thank all the structures of the state that are cooperating to make this operation possible, because the cooperation has been really great and we have managed to organize very efficiently despite the short time, limited opportunities and challenging dimensions of this operation ", concluded Minister Xhaçka./ibna